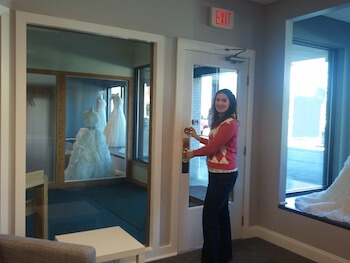 We are open! We are open! We are open!
Written by: Kristy
Did you hear?  We are open!!
It is hard to believe that December 1 has arrived, my friends, but after months of planning and preparing and researching and renovating and painting and buying and choosing and pressing and tagging and decorating and…(I could go on, but I will spare you), The White Dress, Michigan bridal store has arrived!  And you know what?  It feels fantastic!
So, to continue the celebratory news, I have a few items to share with you.  And, if you have ever wanted to see me, live and in person, here are your chances!
First off, take a peek at my "Good Morning Brighton!" segment over at the Brighton Patch website.  The editor, Nicole Krawcke came in yesterday and we had a great time.  I gave her a brief tour, we chatted about wedding dresses, and then… we shot this:
Brighton Patch – Good Morning Brighton!
Second item of business is tonight's Downtown Brighton's Ladies Night Out!  From 6 pm to 9 pm we will be serving up some bubbly and giving a tour of The White Dress for the special occassion!  Frankly, I can't think of anything better to do on a Thursday evening.  I hope to see you there!
I am pretty sure there is no other way to end this post besides this – Yaaaaaaaaay!  We did it!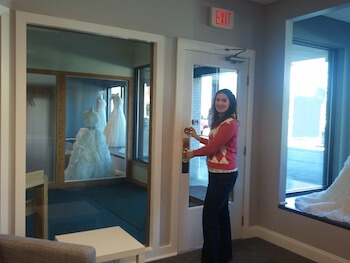 {Here I am, opening our front door, for you!}