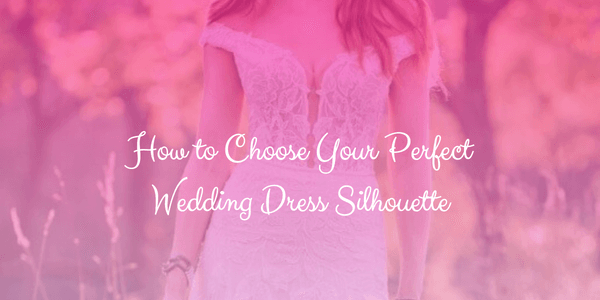 How to Choose Your Perfect Wedding Dress Silhouette
Your guide to the classic silhouettes and how to find the right style for you.
Wedding dress shopping can be overwhelming. Buying a gown can feel so momentous that it's difficult to even know where to start. Fortunately, this is why we usually recommend brides begin by choosing a silhouette. Narrowing down your chosen gown by shape will immediately bring focus to your search so that you have more energy to think about other details, like the color, fabric type or overall style.
When it comes to silhouettes, there's a lot of advice out there about what you should or shouldn't wear based on your body shape. If these rules are helpful for you, feel free to consider them! However, you should not feel that any silhouette is "off limits" because of your figure. Often, the rules about what you can or can't wear say more about the beauty standards of those who write them (and about what they believe should be showcased or hidden) than about what will actually look flattering on your body.
Second, despite this, almost every woman will have her own preferences when it comes to what she does or doesn't want to emphasize—and that's fine, too! The goal is to feel your absolute best on your wedding day. Some women feel their best when they're pushing the limits, and others feel their best in whatever is most comfortable. You won't feel yourself if you're not in a zone that works for you.
All that said, we do encourage brides to keep an open mind. Time and again, we've seen brides try on something they never expected to wear and be absolutely blown away by how they look. If you try on a couple dresses in the silhouette that you thought would be perfect for you and nothing clicks, switch it up and take a twirl in something different. You might be in for a surprise!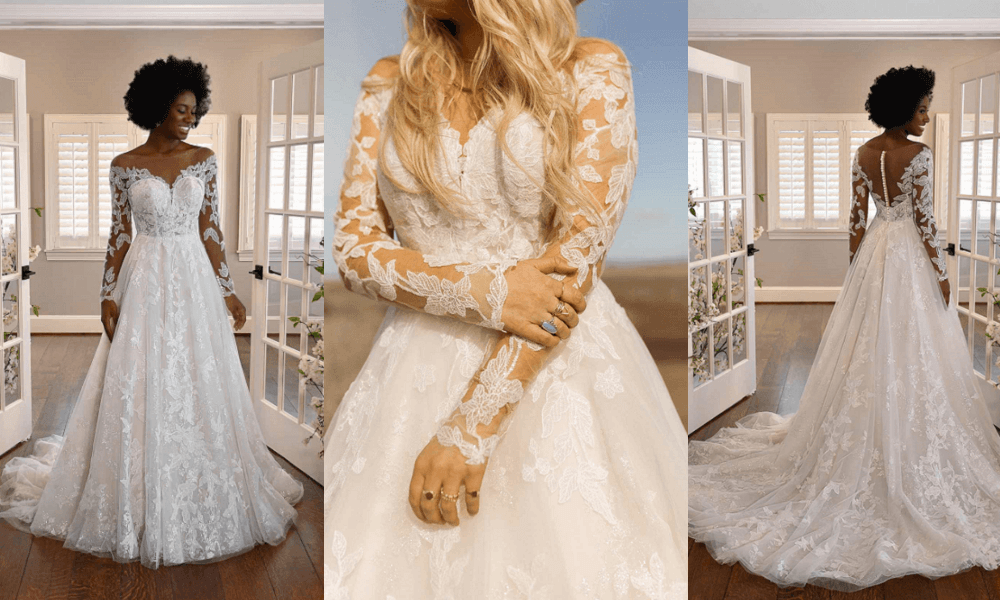 Ballgown: Dazzling and dramatic.
Does the ballgown even need an introduction? With its full skirts and cinched-in waist, it's one of the most iconic silhouettes out there—especially for those who want to go full princess on their big day. It's also an incredibly flattering shape for almost every body type because the volume of the skirt creates such a contrast with the more structured top.
Just because it's a ballgown, however, doesn't mean it has to be traditional. Sansa, for instance, is a beautiful boho ballgown featuring long lace sleeves and a low-cut illusion back. Combined with the oversized botanical lace, it's a dress that will be a showstopper in more ways than one.
A-Line: Simple and classic.
Of all silhouettes, the A-line is one of the least fussy, so if your focus is on comfort, this is a good place to start. The A-line usually has a more fitted bodice, and then flares out at the natural waistline. While underskirts can add volume, it's usually a more relaxed style than a full ballgown, while still offering some of the definition around the waist and support in the bust.
For an example of this dress in our store, we recommend Lyona, which features a deep sweetheart neckline with an illusion plunge, beaded lace appliqués, and delicate spaghetti straps.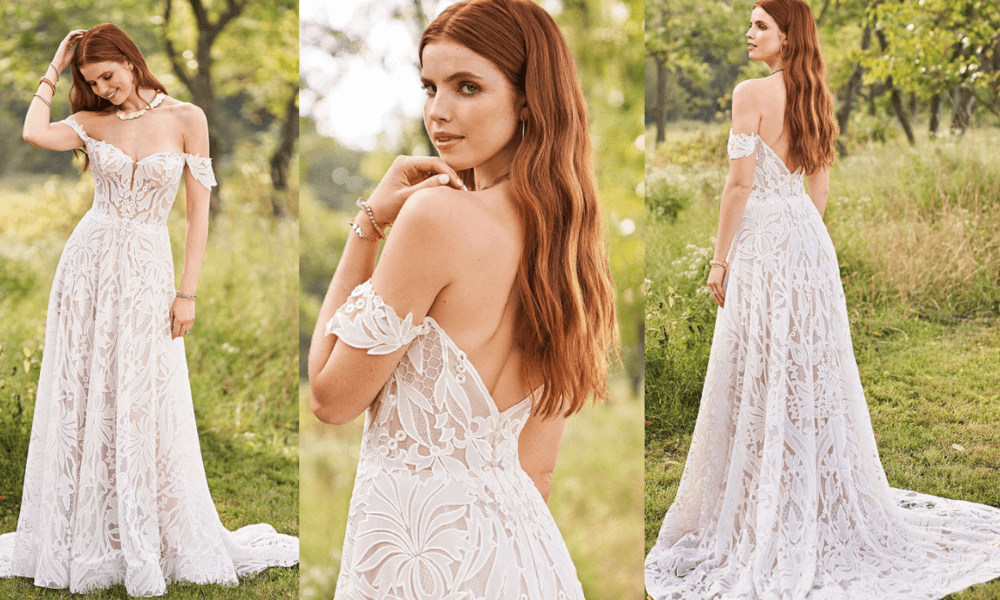 Flowy A-Line: Dreamy and romantic.
Trends change, and currently, the flowy A-line is having a moment. More relaxed than the classic A-line, these dresses are often made of softer fabrics, like chiffon or charmeuse, or designed to feature cloud-like layers of tulle and lace. This makes them fall naturally within the boho trend, which already leans heavily on these elements.
Few dresses exemplify breezy boho better than August, one of our newest dresses from Lillian West. This gown combines the flowing lines of this silhouette with a bold geometric lace with distinct art deco vibes. We adore the off-the-shoulder sleeves for that added bit of romance.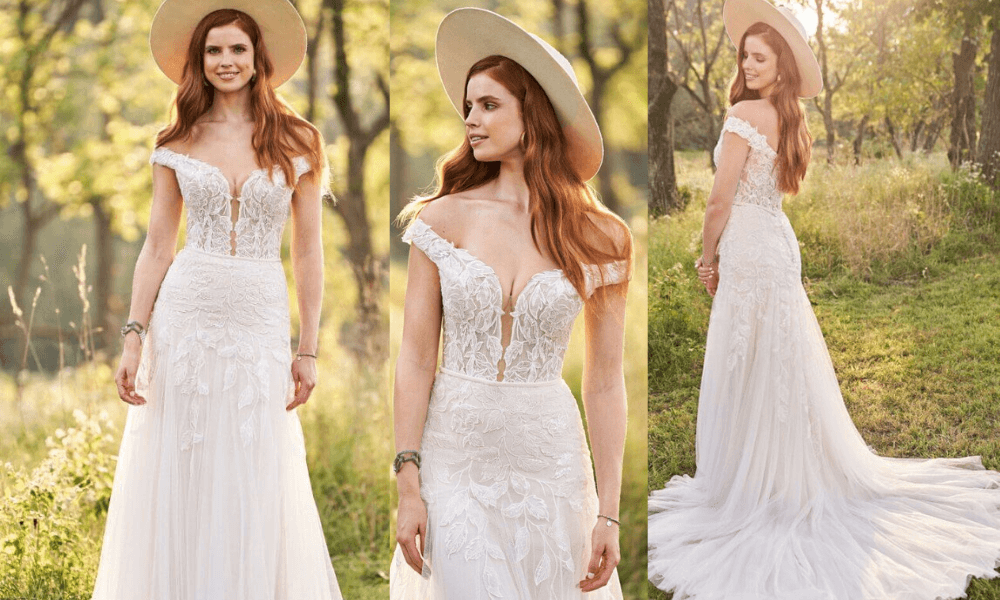 Fit and Flare: Curvy and dynamic.
Some brides love the general style of the A-line, but want a slightly snugger fit through the hips. This can be a gorgeous way to bring a little more tailoring to your gown while still leaving plenty of room for movement in the skirt.
Cami is a perfect example of this silhouette. If you look closely, the placing of the lace is densest around the more closely fitted portions of the dress, and then trails away as the skirt opens. Other features we love? The deep illusion plunge and the Bardot neckline.
Trumpet: Sexy and unique.
If you want a truly figure-hugging gown, this is the style for you. A trumpet gown, also known as a "mermaid," is fitted through the thighs before flaring dramatically at the bottom. A truly unmistakable silhouette, this is an excellent choice if you're looking to make a statement as you walk down the aisle.
Our current pick for this look is Tinsley—a head-turning dress if ever there was one. We adore the corsetry boning in the bodice, as well as the low scoop of the illusion backline. The beaded lace on this gown enhances the glamour, while the lace appliques trailing down to the hemline bring the romance.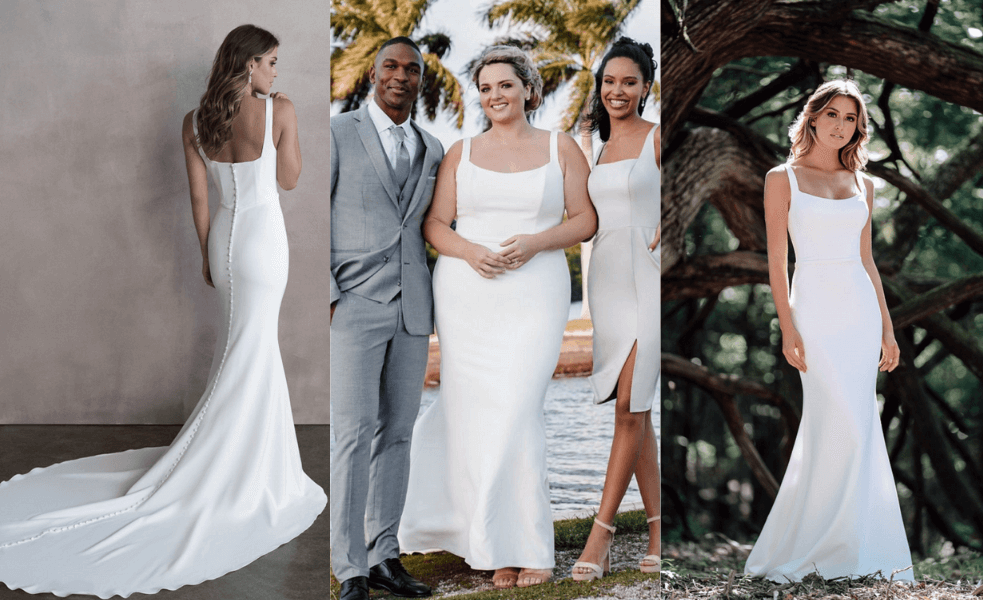 Sheath: Elegant and chic.
After the drama of the above, you may be asking: what if I want something a little more minimalist? There's no rule about sheath gowns that says they have to be plainer than others, but we do find that, with their clean lines, they are a natural fit for brides who want to be bold in their simplicity.
Wonder what we mean? Just take a look at Gina. With a slightly scooped square neckline, narrow waistband, and cloth-covered buttons running the full length of the train, this dress is a perfect example of a gown that says more with less.
Not sure what sounds best for you? Come in for a consultation.
If reading these descriptions has left you feeling like you want to try them all, we get it. There's something to love with every option. Hopefully one of these spoke to you, but if you're feeling like they all did, then it may be time to come on in and try them on for yourself.
Our TWD-ettes can show you each of the dresses featured above, as well as help you find a gown that feels like it was made for you. Schedule an appointment with us today to get started.