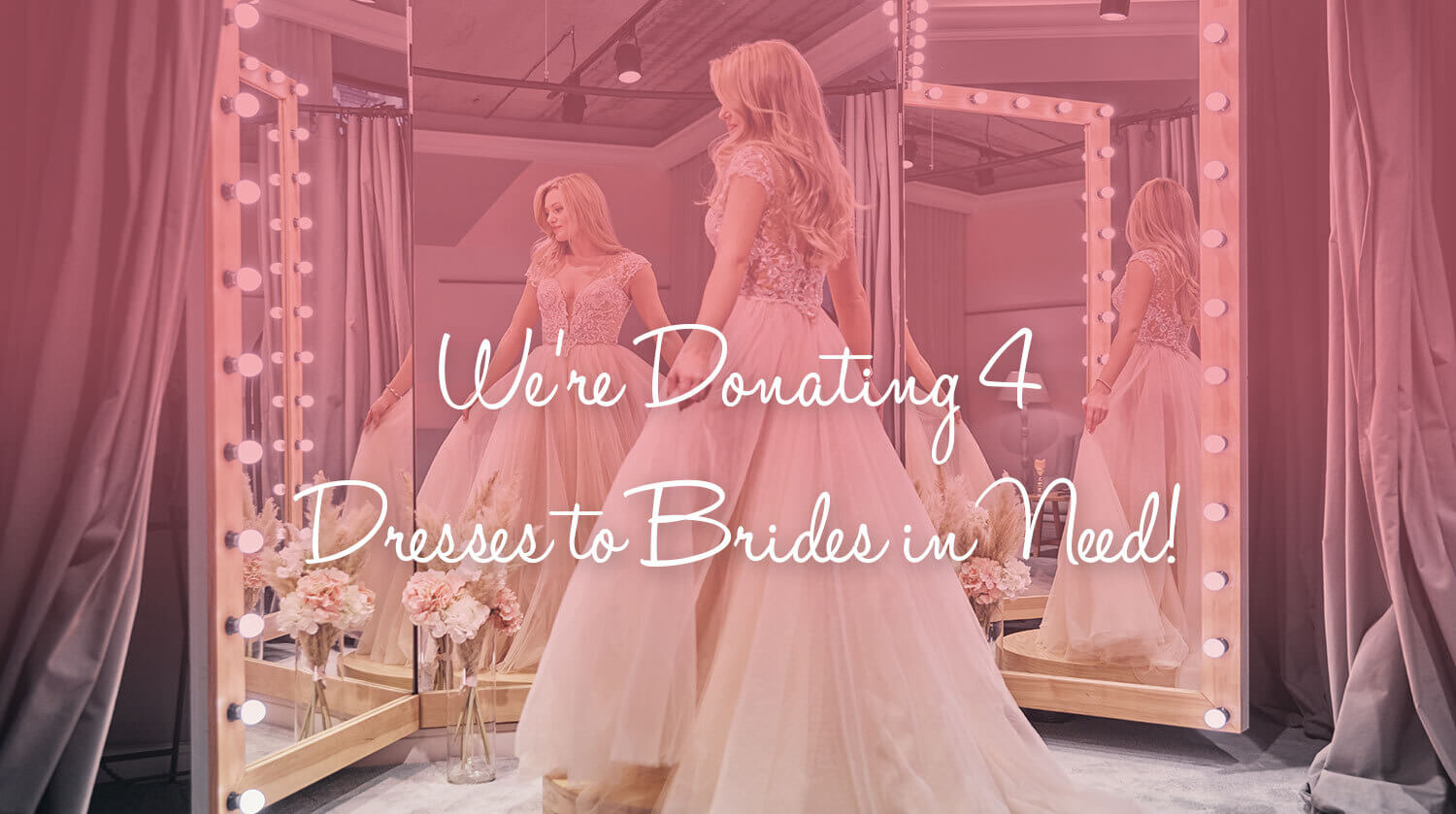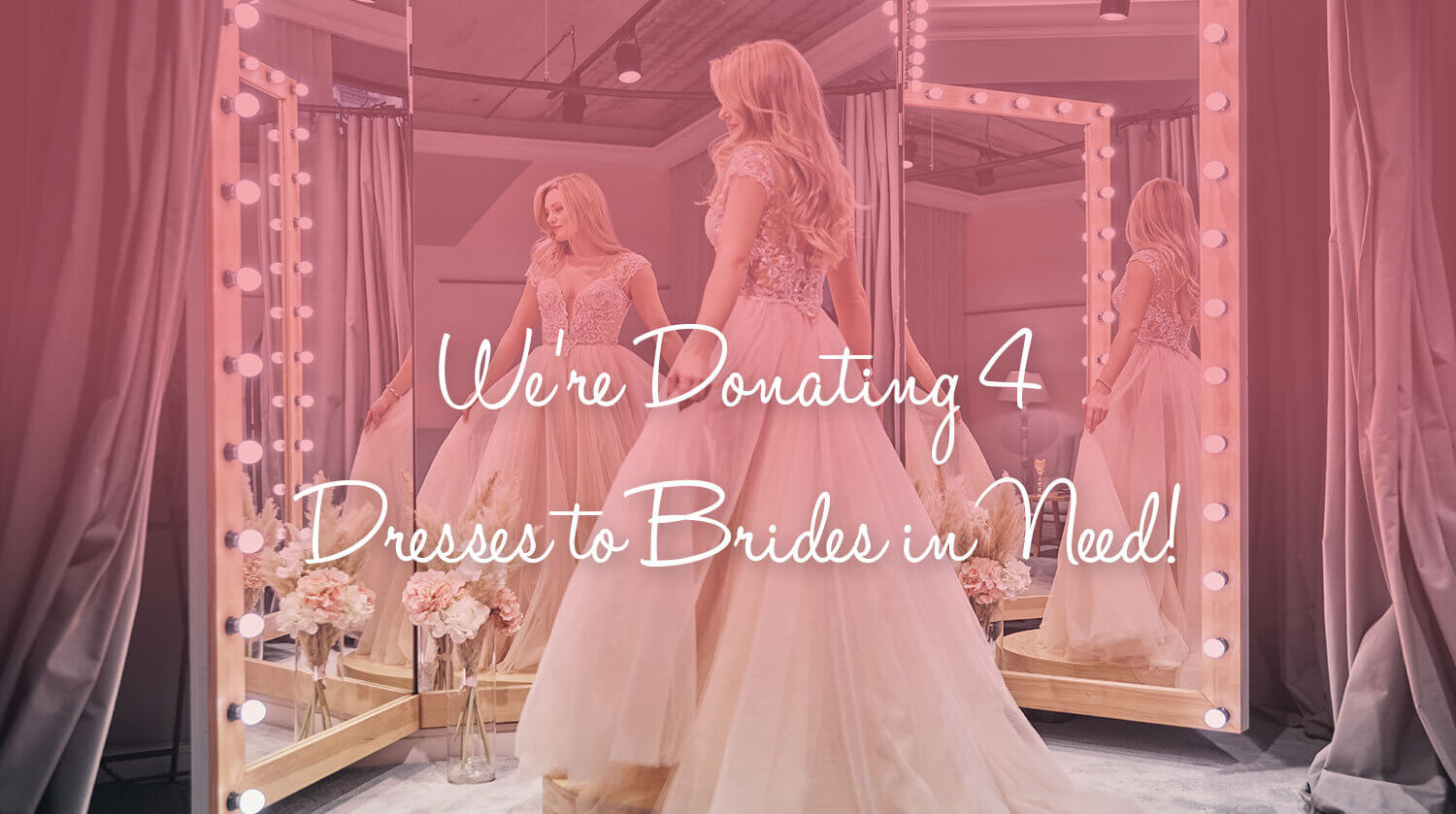 We're Donating 4 Dresses to Brides in Need!
We're staying afloat AND giving back during the Covid-19 pandemic.
The Covid-19 pandemic has hit all of us in different ways. Our front-line and emergency workers have put in extra time to keep essential services running and provide care to those who need it. At the same time, many small businesses have been struggling, with many service industry workers losing their jobs or being put on furlough.
Fortunately, we live in a great town. In response to the pandemic, the Brighton Downtown Development Authority launched a community crowdfunding initiative to support local businesses. We entered to raise funds to support our TWD-ettes during the time that our shop was closed, and our community responded generously. We wanted a way to show our support as well, and that's when we hit upon the idea for our dress giveaway!
Our brides needed support—so we donated dresses!
Every year, we run a Sample Sale event where we offer brides a chance to buy one of our sample dresses for a bargain. While these aren't custom-ordered dresses, we do keep them all in excellent condition, and with a few alterations, many brides can find their dream dress without compromising on quality.
This year, as we planned our sale, we were acutely aware of how many brides were having to change wedding plans because of Covid-19. We heard from brides who were cancelling large venues and opting for small outdoor gatherings for family only instead, brides who had lost work when lockdown began, and brides whose family members were hit hard by the pandemic.
Our brides are the reason our boutique exists, and we wanted a way to make their day special, even if it wasn't everything they had always planned. So we found a way to give back to our brides, even as our community came to our support. For our crowdfunding campaign, for every $250 we raised we pledged to donate one of our Sample Sale dresses to a bride in need.
In the end, our crowdfunding campaign raised over $1000—enough for us to donate four dresses to go to our quarantine brides!
How can you win a wedding dress? Apply to be selected!
We want to be sure that our dresses are going to brides who have been significantly affected by the pandemic. So, instead of doing a raffle, we'll be having a panel of judges select winners. Our judges will be comprised of anyone who donated over $250 to our crowdfunding campaign, as well as some of our community leaders here on Main Street, and TWD's own Kristy Koryzno!
If you are a bride who has a story to share, you can apply for one of our dresses. We have over a hundred wedding dresses in our sale section that the brides will be able to choose from, and while many of them are off the rack, there will be some new ones as well!
Update!
Applications for the Dress Giveaway are now closed. Please stay tuned for an upcoming article about the winners! 
Now that you've applied, take a look at our Sample Sale dresses! Our sizes range from 8–24, but if a bride doesn't find a dress she loves in her size, we can offer her a discount when ordering a dress new. Winners can come in at any time after the deadline, but before August 31, 2020.
Brighton's "Small Town, Big Hearts" initiative showed we look after our own.
If there's anything we've learned from this crowdfunding experience—and the pandemic which triggered it—it's that our neighbors in Brighton are passionate about supporting their community. On so many occasions, we have been moved by the generosity, the kindness, and the thoughtfulness of those who share this town with us.
We would like to thank everyone who donated to keep us going during the lockdown. Stay safe, and we look forward to seeing you in our store and around town.