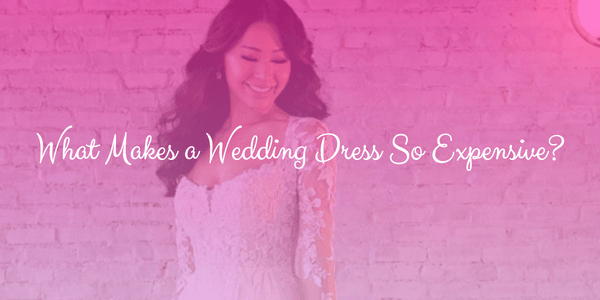 What Makes a Wedding Dress So Expensive?
Wedding dresses carry a hefty price tag, but there's a reason they cost what they do.
For most brides, their wedding dress will be the most expensive item of clothing they ever purchase. No garment is as anticipated or romanticized, and at this point, thanks to the popularity of shows like Say Yes to the Dress, most brides walk into a wedding boutique with at least some idea of what the dress will cost. (However, lucky for us, all the gowns in our shop are well under the price tag that you see at Kleinfelds.)
That said, understanding why wedding dresses cost what they do can help a bride feel more confident in her purchase. If you're a bride shopping on a budget, being aware of the factors most likely to drive up the cost of your gown can help you start with a vision that is more within your price range. And if you're a bride with a generous budget, knowing where that money is going can help you appreciate the quality of the dress you purchase.
Most of all, it's important to realize that a high-quality dress is about more than the dollar amount on the price tag. A simple dress made of good materials can cost less than a more expensive dress with lots of embellishments but be of higher quality based on the workmanship that went into it. So, if you want to be a savvy shopper, here are the factors you should consider when trying to understand the cost of your wedding dress.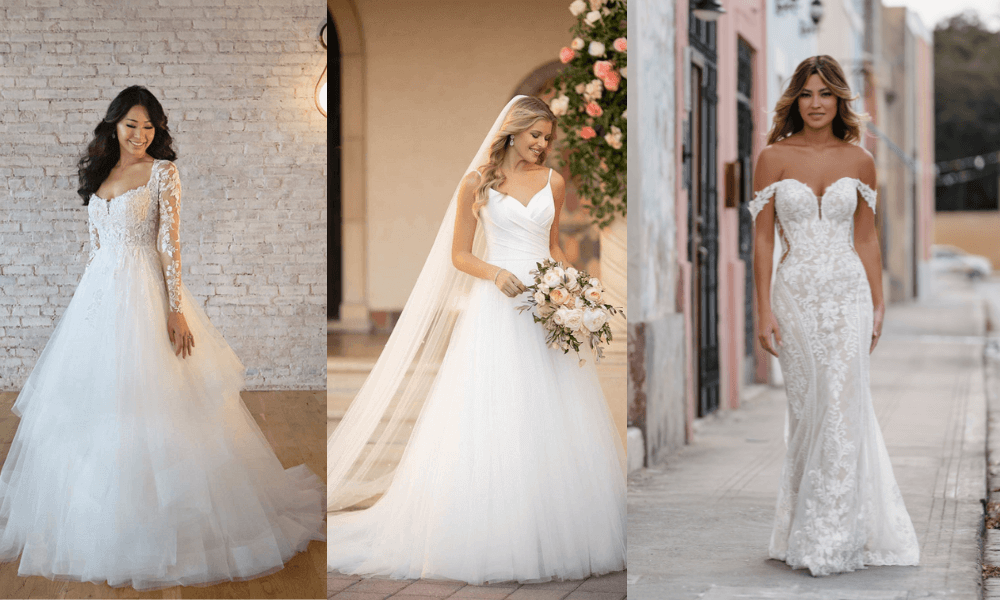 1. Quality of fabric.
Let's start with the most obvious factor: the fabric. Wedding dress fabrics can range from lightweight chiffon to luxurious Mikado silk to intricate Venetian lace. While you will probably never see the cost per yard of these fabrics written down, some of these materials can cost over a hundred dollars a yard, and a dress with a full skirt or a long train might easily require over ten yards of fabric.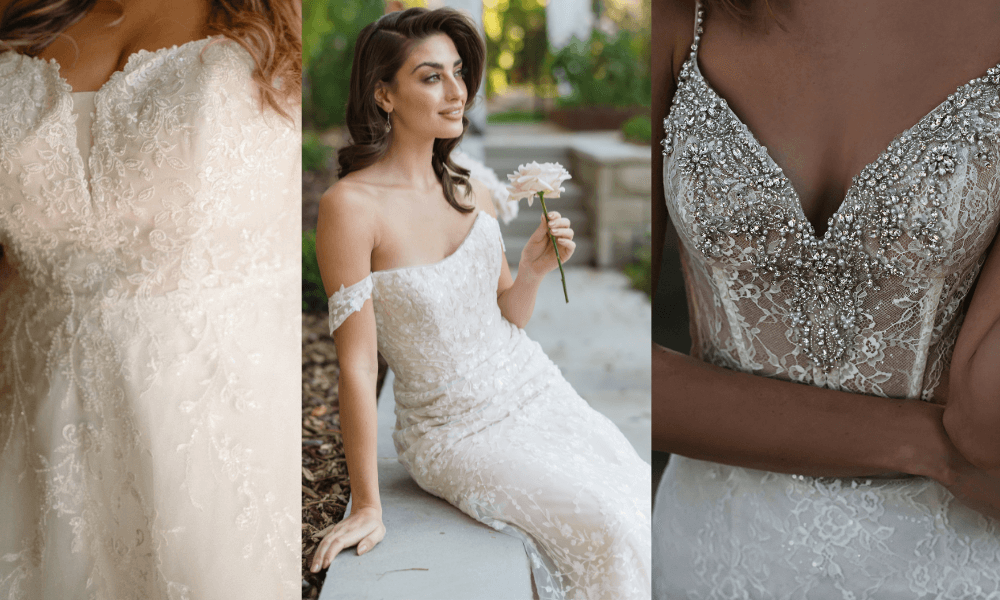 2. Level of detail.
Fabric isn't the only material to consider, however. If you're envisioning a gown with a lot of crystals, beading, or hand-placed appliqués, these will also drive up the price tag of your gown. This isn't just because the beads and crystals themselves cost money. It's also because the placement of these design elements has to be adjusted to match the measurements and proportions of each gown, which can also require a lot of work by hand.

3. Structure and silhouette.
The ballgown silhouette is one of the most popular styles among brides—after all, how many opportunities do you have to wear a gown that voluminous! But the volume can sometimes come with a price tag. It's not just that the layers of fabric add up, it's that the structure required to keep everything in place is more labor intensive than a simple slip dress. This isn't to say that ballgowns are the only style of dress that can get pricey, though. Any style that requires a lot of careful fitting and tailoring will generally cost more than looser, free-flowing silhouettes.

4. Cost of labor.
So far, a lot of what we've talked about has had to do with the cost of materials. But wedding dresses also require a lot more work done by hand than the garments you are used to purchasing off the rack. Remember that your wedding gown will be sewn, at least in some capacity, by hand. While designers have software to assist them in adjusting their patterns to those measurements, they still rely on skilled workers to position those pattern pieces on the fabric, cut everything out, and sew it all together.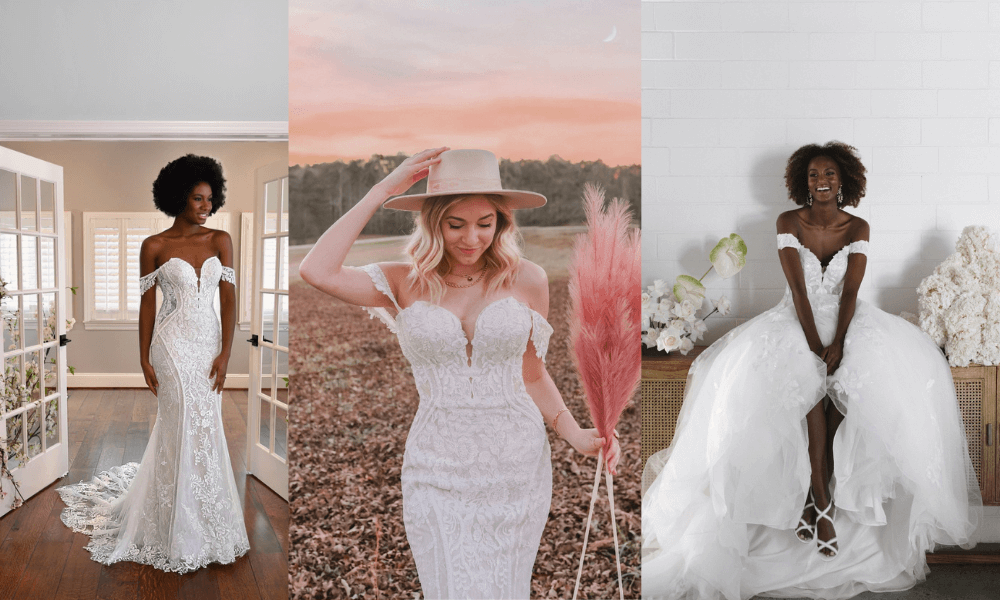 5. Designer.
Just like in the fashion world at large, some labels are more prestigious than others. If you're buying a gown from a well-known design house, some of the cost of your dress will come down to the name. Now, designers don't get their reputation from nowhere. If you're purchasing from a high-end label, it's likely because they're using top-shelf fabrics, or have incorporated a lot of labor-intensive details into their designs. That quality will come through in your final gown, and we won't pretend it's not satisfying to have a gown designed by a household name, either!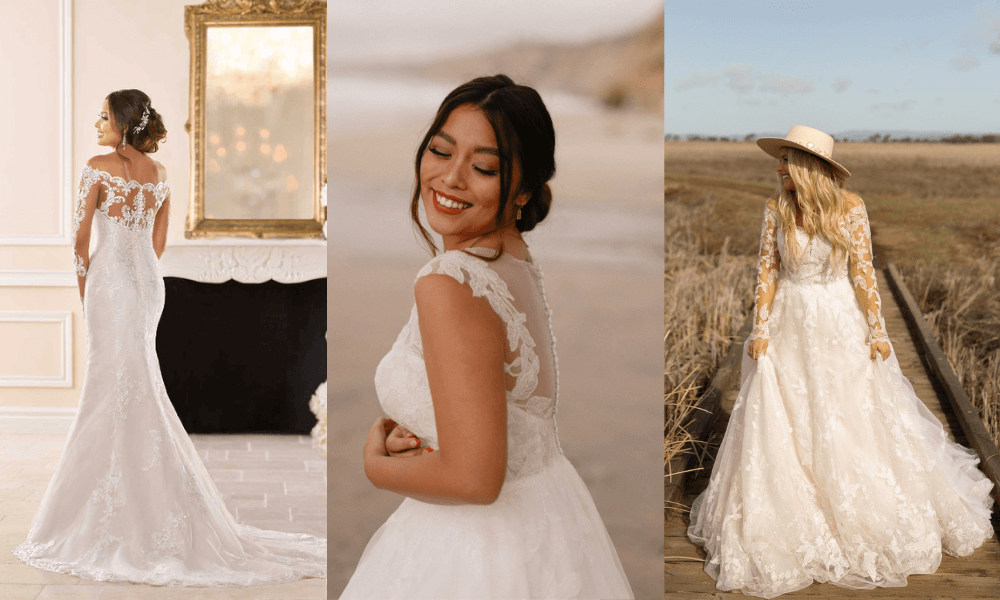 6. Customization.
Finally, many brides find gowns that are almost their dream dress—they just need a little bit of custom work to get there. Many designers are willing to work with brides to make those alterations, such as turning a scoop neckline into a sweetheart, or adding fabric to fill in a sheer panel, or creating straps for a strapless dress. After all, if they're already making your dress by order, just for you, minor adjustments aren't too difficult to include. And if a designer isn't willing or able to make the adjustments, the seamstress who's helping you with your final fittings may be able to do them for you. But custom work does add to the price of your gown, and the more of it you want, the more it will be.
Your wedding dress is a labor of love—and a work of art.
The bottom line is that, while expensive, your wedding gown also reflects an incredible amount of craftsmanship, from the artistic vision of the designer, to the production quality of the textile manufacturers, to the skill and dedication of the sewers and embroiderers. Bringing all that together into the dress that you wear on your wedding day is an incredibly special achievement.
Even if you have a limited budget, you can still enjoy the luxury of a designer wedding dress. Look for styles that have a simpler design and that don't require a lot of embellishments. A flowing A-line chiffon dress, or a minimalist satin sheath can look just as romantic or stylish as a more elaborate gown. You can also keep an eye out for sample sales, where you can buy a gown off the rack at a discount, and work with a seamstress on alterations.
And if you aren't yet sure what you're looking for in your wedding dress, book an appointment with us in our boutique! Not only do the TWD-ettes love nothing more than to talk about bridal fashion with you, we always keep your budget in mind and ensure the dresses we pull are within a range you are comfortable with. We are here to guide you toward a gown that perfectly balances your dreams with your budget. Contact us today to get started.