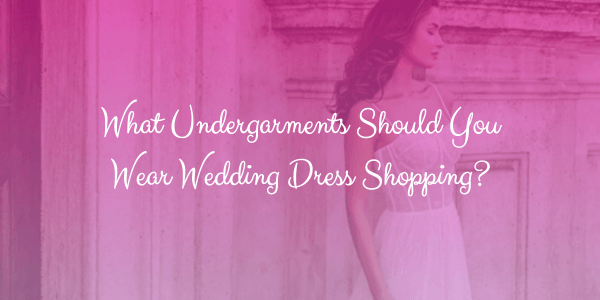 What Undergarments Should You Wear Wedding Dress Shopping?
What you have on underneath your gown will affect its fit and appearance. Here's what to know.
As you're getting ready to shop for your wedding dress, you've probably spent a lot of time looking at styles, considering your aesthetic, or thinking about how your dress should match your venue. So when the day comes to finally show up for your first bridal appointment, you may feel like you're all prepared—until you start thinking about what that appointment will actually entail.
Visiting a bridal boutique for the first time is an exciting moment for many brides, and it's common for nerves to run high, especially when the moment comes to strip down in the dressing room. That's partly because the experience of trying on a wedding dress is a little different from trying on other clothes. Wedding gowns are constructed differently from most dresses brides have tried on before, and that means the rules are a little different for what you wear underneath.
Since the goal of trying on wedding dresses is to give you a preview of your final bridal look, you want to go into your appointment with your options wide open. Here's what to expect.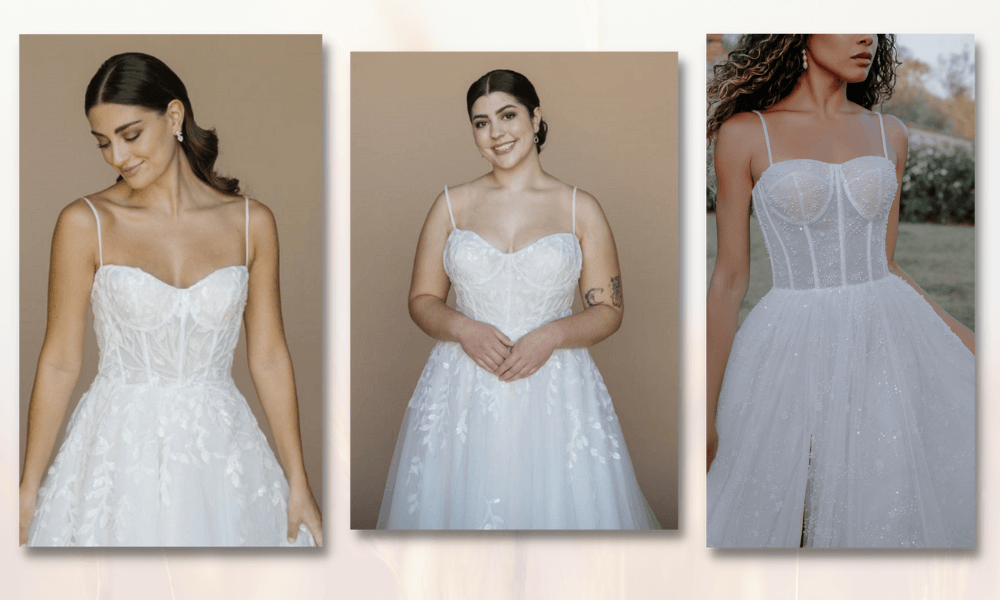 1. Most dresses won't need a bra—the support is built in!
Many wedding dresses contain structural elements, such as boning, padding, corsetry, linings, and interlinings, that make wearing a bra unnecessary. Moreover, sewn-in structure tends to be more comfortable. Because it has the rest of the dress to keep it in place, you'll worry less about your straps slipping or your underwire digging in.
Designers account for these elements when crafting the gowns so that they don't have to worry about whether a bra would show or not. If you're creating a dress with a plunging neckline or open back, you want the bride to enjoy that detail without the stress of finding a bra that will work with it. Remember that even gowns that have a high back may also include sheer lace details or peekaboo cutouts that don't play well with typical bras.
What all this means for your bridal appointment is that you probably won't need to worry about a bra, as you'll be trying most on without one! At The White Dress, our dressing rooms are designed to be extra private, and our TWD-ettes only come in after you've pulled the dress on to help zip you up and clip the dress into place.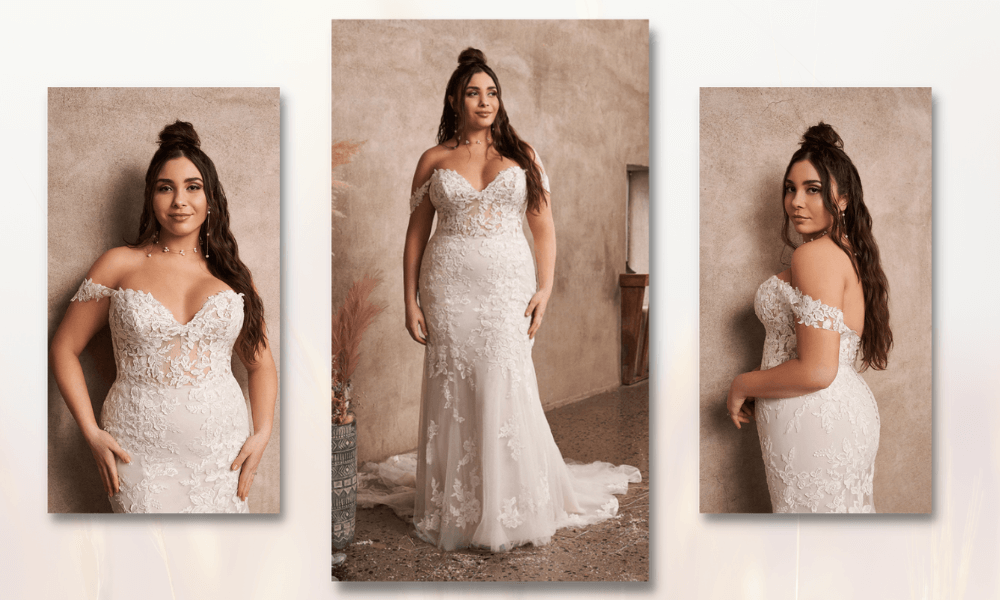 2. Bring shapewear and a strapless bra if they will help you feel more comfortable.
Some brides feel uncomfortable going braless on their wedding day (or even just in the fitting room). This can be especially true if they're drawn to figure-skimming silhouettes or lightweight materials. Even if you know, in theory, that the dress is designed to flatter your figure, it can be hard to set aside everything you've learned from experience over the years. Also, while many gowns don't require extra support, some still do!
If you're planning to try on styles that may benefit from extra support, or if going braless would make you uneasy, we recommend bringing a strapless bra and shapewear with you (but don't come wearing them). That way, you can try on a few dresses without the supporting garments to decide whether you actually need them.
Finally, for brides with larger cup sizes who need extra support, we'd also recommend a good longline bra, or you could search for a more structured style. A gown that features boning or corset-like details in the bodice may surprise you with the amount of support it provides.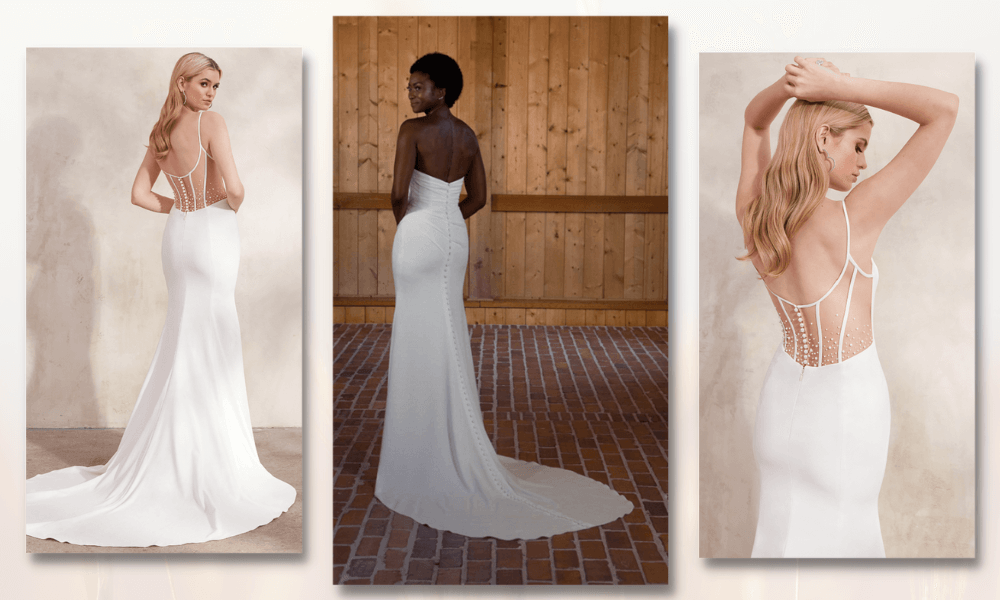 3. Panties are REQUIRED, and no-show panties with good coverage are best.
We've talked about brides who are uneasy going braless. On the opposite end of the spectrum are those perfectly comfortable going commando on their wedding day, and who show up to their appointment prepared accordingly.
When it comes to your wedding day, you do you! But for hygiene reasons, all brides are required to wear underwear when trying on gowns in our store. So our best guidance here is simply: come wearing underwear!
That said, we do recommend no-show panties with good coverage. If you're choosing a style with cutouts or sheer portions where the edge of your panties might show, choosing a pair that matches your skin tone can give you an idea of what your dress will look like on the day.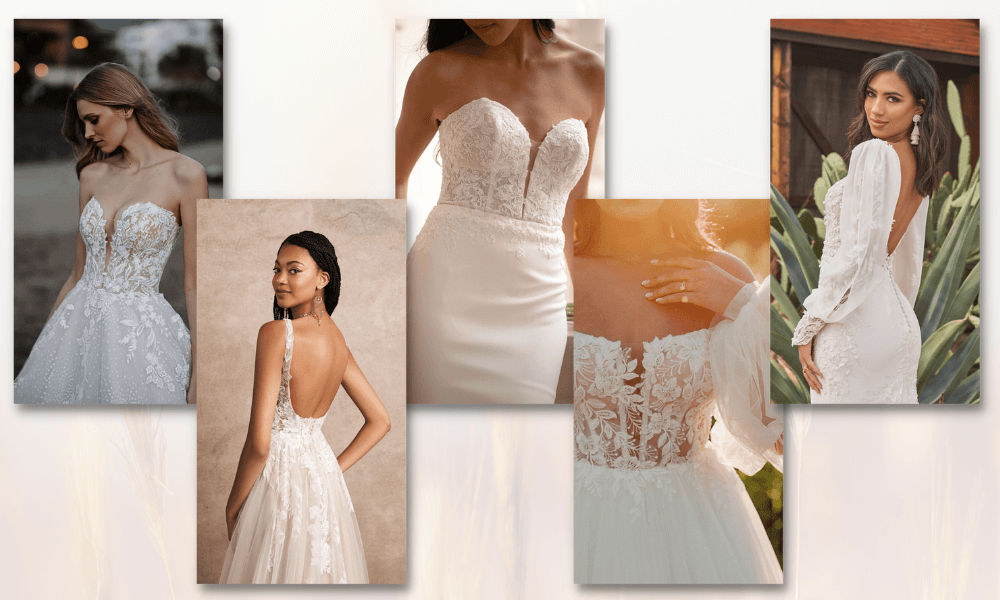 4. A good bridal boutique will have additional undergarments and can offer extra advice.
Finally, if your dress does require an unusual undergarment situation, your bridal boutique will be able to offer advice. Along with the petticoats needed to add extra volume, they may have a slip for you to try on to provide a layer of protection between you and the petticoat material. If you have any further questions or concerns, you can raise them with your consultant at the appointment and they can give you advice on what to purchase.
Wear what will give you the most options when searching for your dress.
The bottom line is that, until you have your dress picked out, you may not know what will work underneath it. If your eagerness to purchase a wedding wardrobe extends to lingerie, you'll probably have to plan for that as an outfit change for after the wedding—not something to wear under your gown.
Instead, let your gown do the work for you! Your wedding is going to be a long day, and the less time you spend adjusting your gown or struggling with uncomfortable underwear the better. Focus on pieces that offer protection or that provide a little extra support without interfering with your gown's structure. Then relax, secure in the knowledge that your dress is doing its best for you.
If you're ready to start wedding dress shopping, contact us today to set up an appointment.