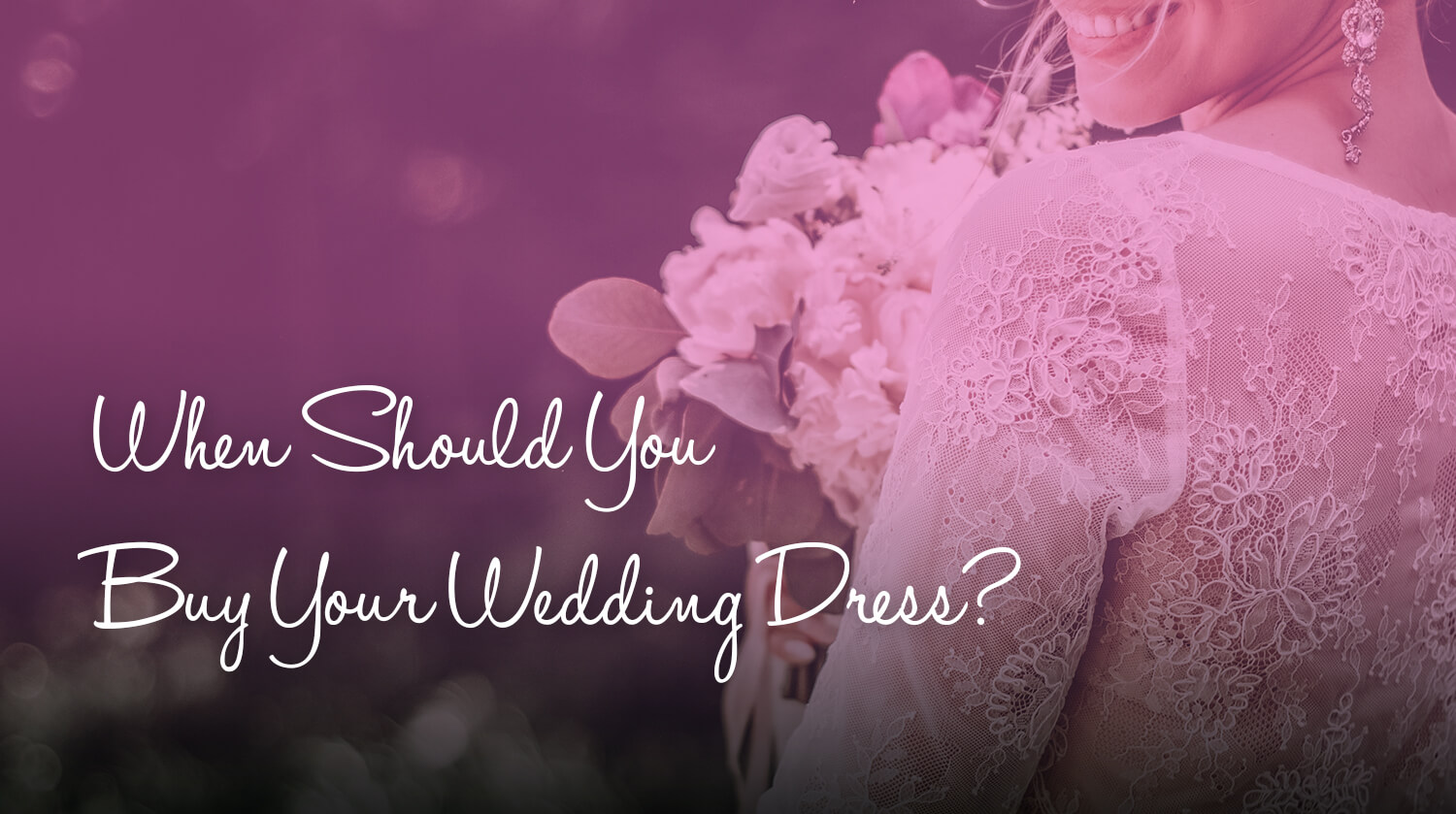 When Should You Buy Your Wedding Dress?
Your big day is on the calendar. Should you already have a wedding dress?
Among the number of big milestones you'll pass on the way to your wedding day, perhaps the one that looms largest for most brides is that of finding a designer wedding dress. For most brides, it's both an exciting and anxious time of the wedding planning, as it brings to the surface any number of childhood dreams and adult insecurities.
Because of this, many brides are eager either to buy the dress right away, or put the shopping trip off till the last possible minute. However, both these approaches can lead to some unfortunate consequences down the road. So, if you're wondering when the best time is to buy your wedding dress, here are a few pointers.
1. Set your wedding date.
For most brides, this is the easy one. You get engaged, and the absolute first priority is to pick a date to share with your friends and family. However, some couples like to take things a little slower and put off setting the date till they have a few other details arranged—including the wedding dress.
This isn't the worst decision you can make, but it can still backfire. For instance, what if you find a gorgeous, breezy dress perfect for a beach wedding, only to set a date in the middle of winter? Or what if you find a beautiful dress, but are not quite ready to order it, and then life circumstances cause you to push the wedding off for another year or two? By the time the day comes to order, you may no longer be able to have the dress you want as it is no longer available.
We strongly recommend that brides not start wedding dress shopping until they have a date on the calendar. So long as it's not coming up really quick, you'll still have plenty of time.
2. Choose your wedding venue.
After the date, the venue is the most important decision for most brides. The wedding venue not only determines the size and style of the wedding, it can also have a significant bearing on the date.
Some venues book up months or even a year in advance. If you have your heart set on a location, you may even find yourself planning your wedding date around the venue. And when it comes to your dress, the venue will have a huge impact.
After all, if your reception is in a barn without air conditioning, you may regret choosing a poofy ball gown. And if you're getting married on a beach, you may want to reconsider your plans for a cathedral-length train.
3. Give yourself time for the dress to be made —and altered.
For many women, their wedding dress is the first and only piece of custom sewing they ever purchase. These aren't ready-to-wear purchases, but rather custom gowns sewn as an order is placed. Because of this, brides should expect to wait between 6-7 months for their dress to arrive after they've ordered it, and that still doesn't count the time it takes to do fittings and alterations.
Brides usually have about three fitting appointments to get their dress just right. The first covers the most major alterations, such as adding sleeves or making an adjustment to the neckline, and adjusting any fit issues. The second fitting is to review any and all changes to the dress and finalize the fit, and the third is to ensure everything is just right. Taken together, these rounds of tailoring can take as much as three to four months.
Because of all the work involved, we recommend brides order their dresses between twelve and nine months in advance of their wedding, but after they've set their date. You can still order dresses closer to the wedding, but your options may be more limited, and it's best to spare yourself the stress of a rush delivery.
Three months to go and no dress? Here are your options.
Of course, many brides find themselves looking for a dress with just a couple months—or even weeks!—to spare. In these cases, you may still be able to find a gown, but you may have to set aside some of your visions of a "perfect" dress and focus on the available options.
Typically, the best option for brides on a limited timeline is to start looking for sample sales. These are the dresses that are on the rack in the bridal salon for brides to try on, and salons typically run a sample sale on some of their older styles when they're trying to clear out their store rooms for new inventory.
That said, just because a style is "old" doesn't mean it isn't still lovely. Just keep in mind that whatever you try on will have to be a pretty close fit, as your timeline for alterations is also shortened. You may be able to make a few adjustments, but you're largely going to be wearing what you try on in the store.
Another option that is sometimes available, but shouldn't necessarily be 100% relied upon, is that many of our designers have a few of the more popular wedding dresses in stock, meaning that we have the ability to get them within a few weeks of the date the order is placed.  Again, while this is not always the case, it has worked for many of our brides in the past and we love being able to offer a brand new dress in a shorter time period.
If you've exhausted these options, think about hitting up some vintage or second-hand stores. You may get lucky and find just the right dress!
Spare yourself the last-minute stress and buy your dress in advance.
For some brides, the dress they wear on their wedding day isn't a big priority, which means they're happy to compromise on the style, especially if it means cutting down a big budget item. But if you have a specific vision for how you want your designer wedding gown to be, give yourself the time you need to see it fulfilled.
Find your venue, pick your date, then call us. We can help you find the dress of your dreams.