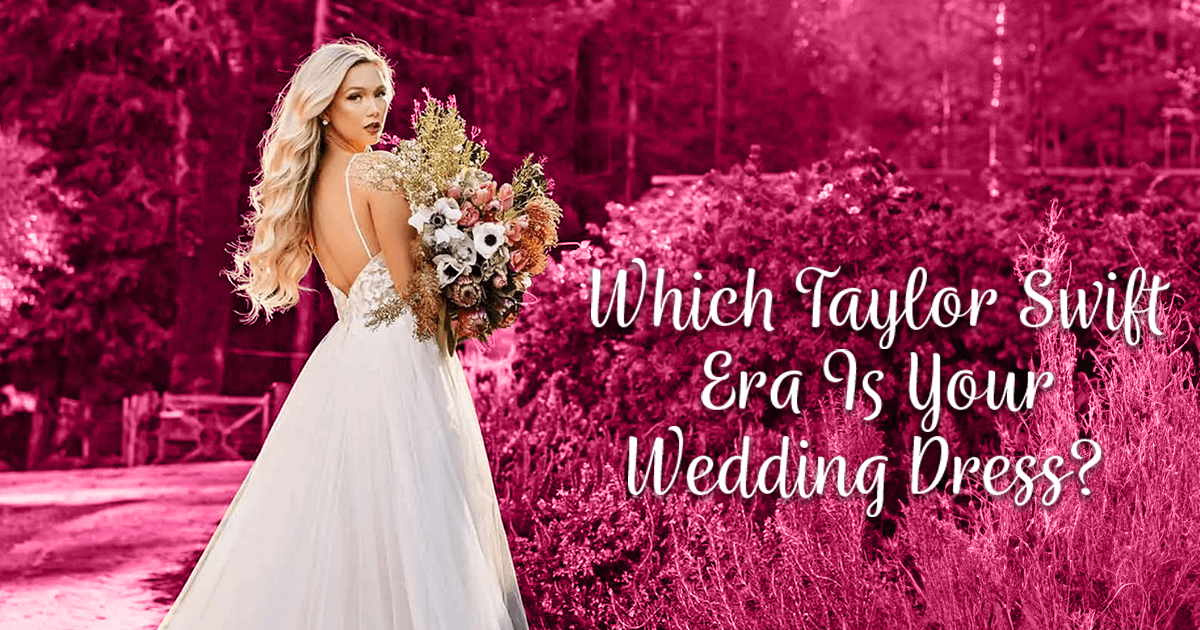 Which Taylor Swift Era Is Your Wedding Dress?
This Swifty summer, come find the gown that makes your heart sing while you and your partner say "forever and always."
For Swifties, the Eras era has been a whirlwind of self-discovery and self-presentation as we've revisited the re-released albums that defined our coming-of-age and found new ways to identify with them. Whether you were lucky enough to land tickets to her latest tour or not, you probably pulled together an outfit based on your favorite era—or at least you thought about it a lot.
And if you happen to be planning a wedding during all of this, then we bet you've had a playlist of Taylor's most starry-eyed, hopelessly romantic love songs running on repeat. (We know we would!) So, with that inspiration in mind, we've gone through our Look Book to find the gowns we believe are the best fit for every Taylor Swift era. Take a look at our choices, and once you're done, tell us yours!
1. Debut
Taylor knew everything when she was young, which is why the innocence of even her earliest tracks always stops just short of naïve. That's how we feel about Winny, a flowing A-line gown with a sweetheart neckline that exudes country charm without looking childish. If the panels of sequined lace weren't perfect enough, we also love how the low back pairs with the illusion plunge in the front.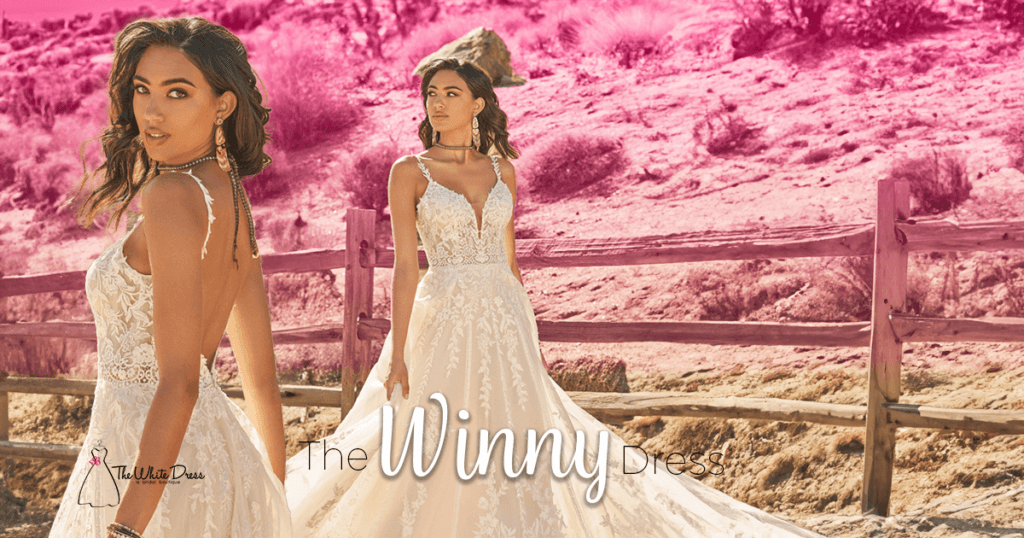 2. Fearless
If you're ready to pick out a white dress for your love story, nothing will have you feeling more  like a princess than Katina. The layers of tulle in the skirt make this ballgown look like it's straight out of a fairytale, while the off-the-shoulder straps and sheer boning in the back will have you feeling fearless as you walk down the aisle.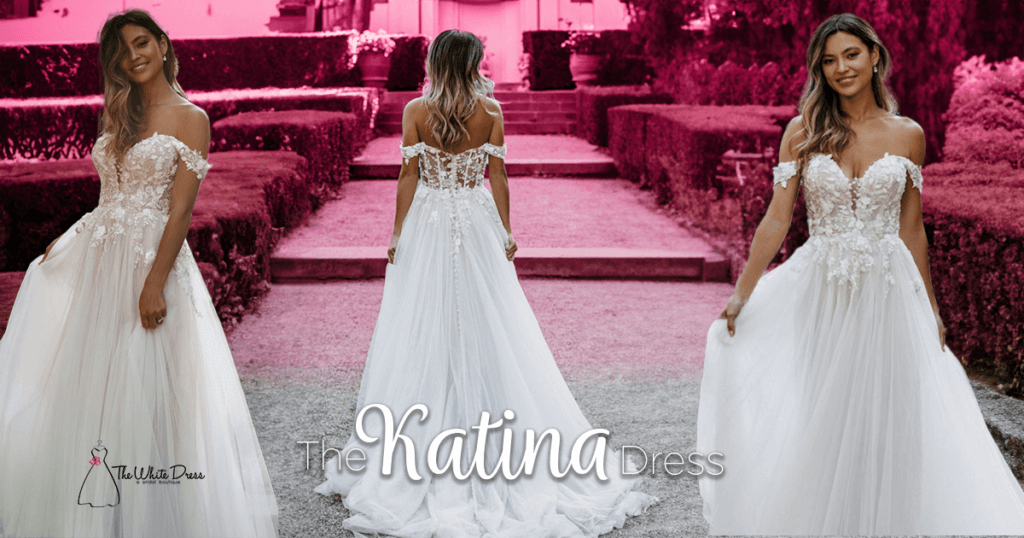 3. Speak Now
Fewer dresses leave us wonderstruck and blushing quite like Thea. With its billowing sleeves and layers of chiffon, it will have you feeling enchanted for your flawless night. We can't think of a better wedding gown to represent the Speak Now era—short of wearing a purple dress. (Inspiration for the bridesmaids, maybe?)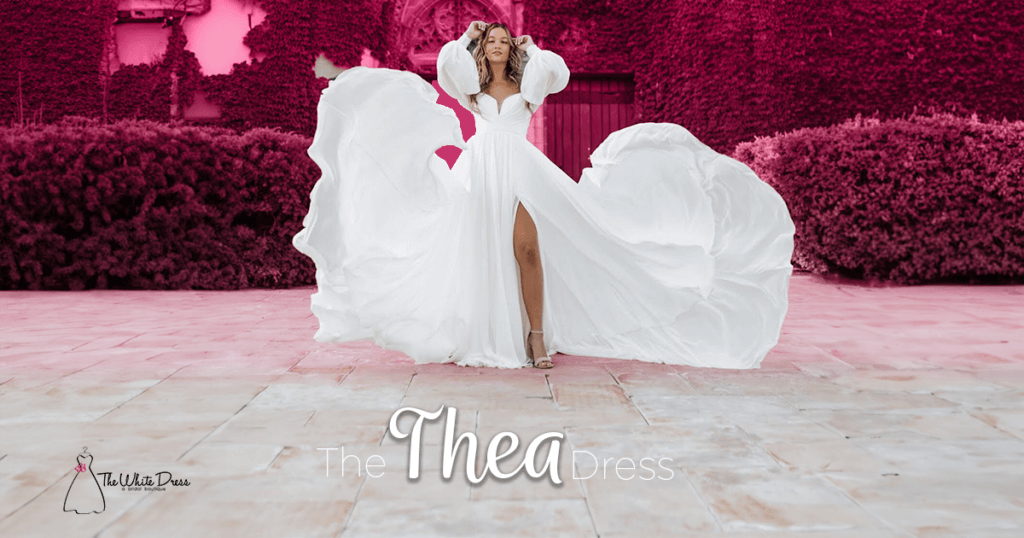 4. Red
While the Red era may have been better defined by T-shirts and tailcoats, we can't help but feel that Cami also fits the brief. We love how the lace on the bodice reminds us of autumn leaves falling into place, while the ethereal train will have you feeling in a state of grace. With a deep plunge neckline, this dress will have your partner thinking "I knew you were trouble" when you walk down the aisle.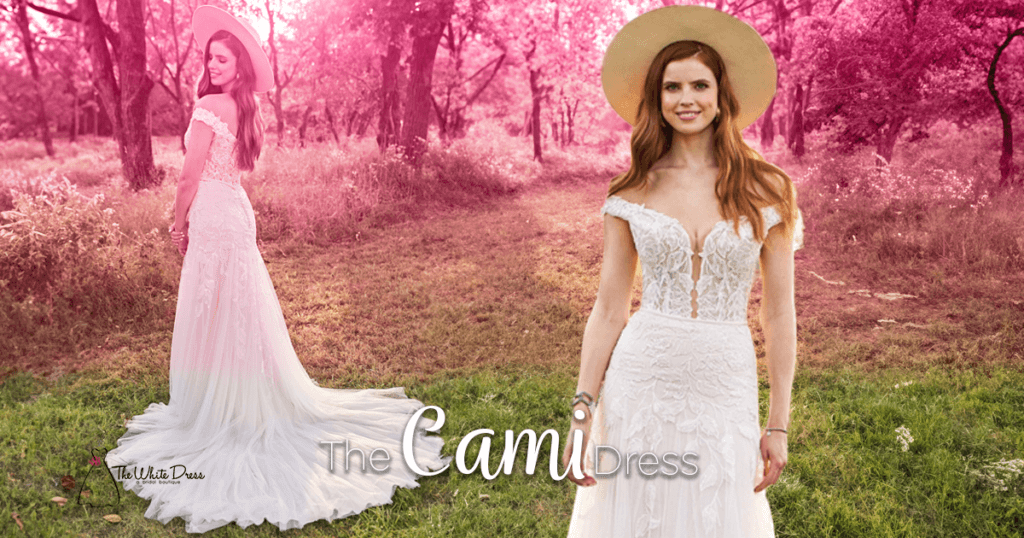 5. 1989
1989 marked Taylor's transition from country star to pop icon, and given the soft, flowy vibe of this album, we believe Nova is the perfect dress to represent her new cool girl aesthetic. Nothing says "nice to meet you, where you been?" quite like a chic sheath silhouette, while the spaghetti straps and lace bodice are like something from our wildest dreams. One thing's for sure, this dress will never go out of style.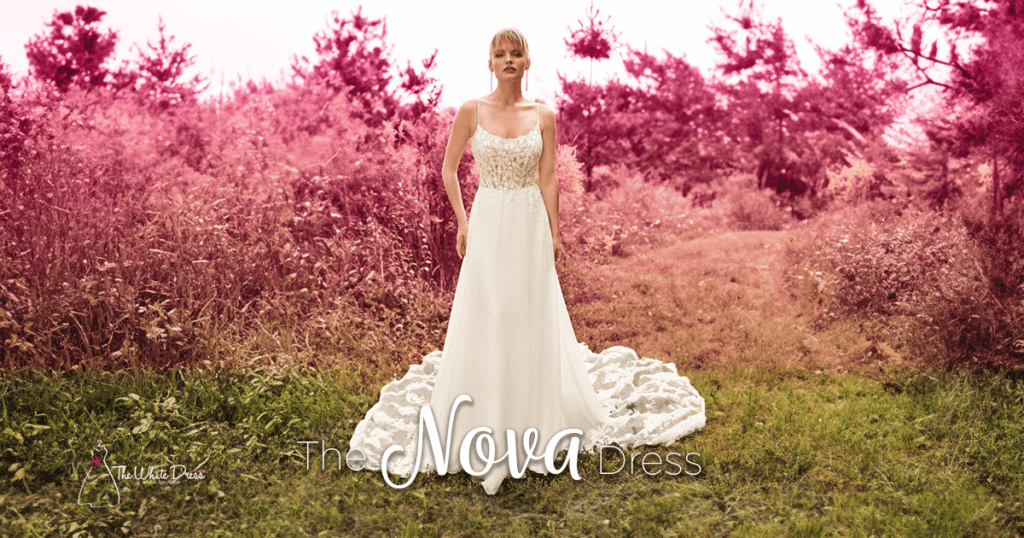 6. Reputation
Are you ready for it? When it comes to a dress that says "I don't want you like a best friend," Carmen is our endgame. You can start a big conversation with this gown, with its corset-style strapless neckline and statement silhouette. Featuring a figure-hugging construction of Mikado satin, this is one dress you won't want to take off.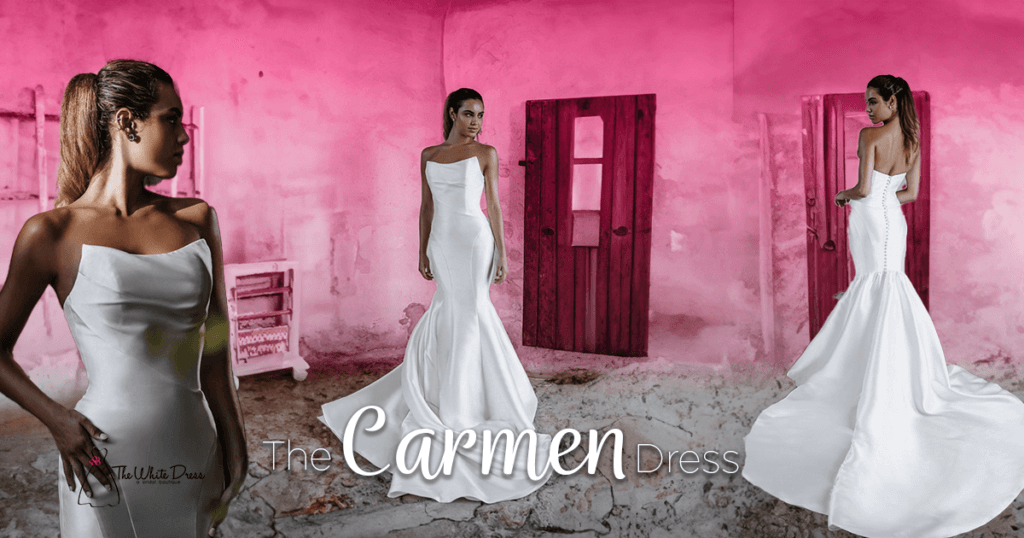 7. Lover
There's a dazzling haze, a mysterious way about Iggy, our Lover-era choice by virtue of incorporating every romantic detail we could imagine. Clouds of billowing tulle? Check. A corset-boned bodice covered in lace flowers? You got it. Gauzy lantern sleeves with an off-the-shoulder neckline? Absolutely. You won't want to look at anything else.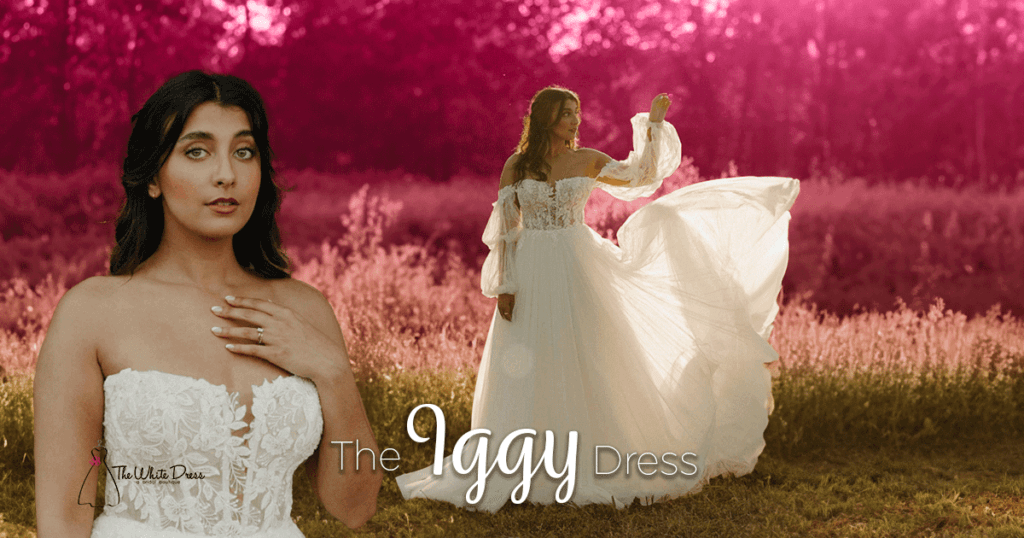 8. Folklore
If you're ready to say "yes" instead of "no," can we introduce you to Farren? The illusion lace on this gown combined with the long lace train are our idea of glamour. And while the long sleeves add elegance, the open back makes this dress anything but demure. The devil's in the details, but we think this will be your favorite.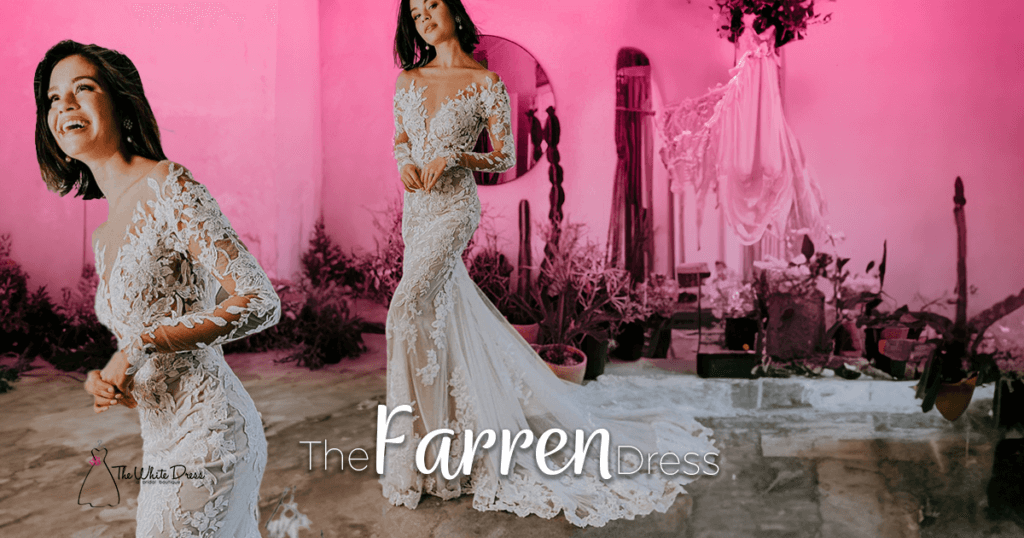 9. Evermore
If folklore began Taylor's exploration of lyrical storytelling, evermore introduced mystical woodland themes that we think are perfectly captured in August. The oversized lace pattern matched with the champagne underdress gives this dress Celtic princess vibes—perfect for any bride ready to wreck plans or put roots into dreamlands. As they say: forever is the sweetest con.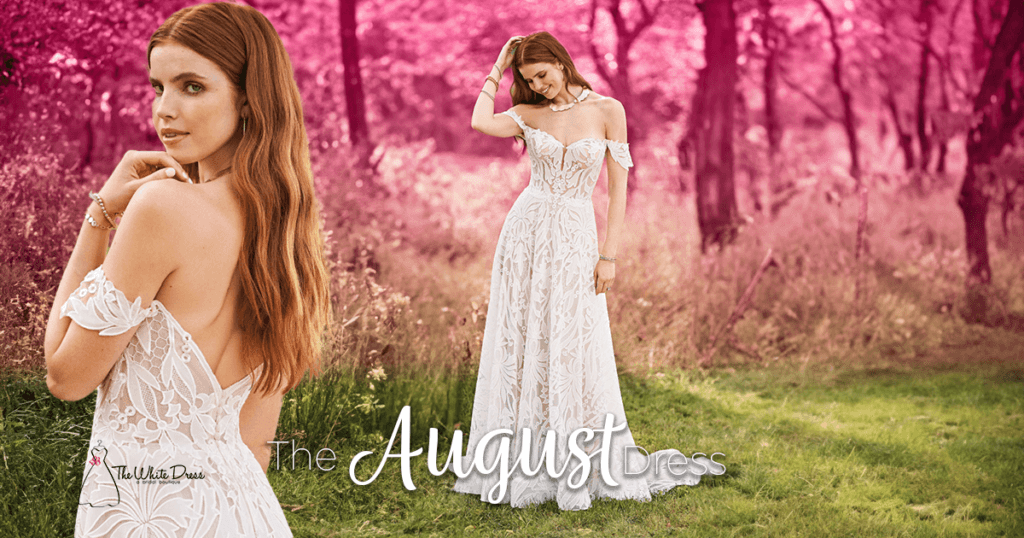 10. Midnights
If you want to walk into a room and make the whole place shimmer, then we'd like you to meet Gaia. This gown features an all-over sparkle created by oversized sequins that glitter like snow on the beach—or like diamonds in your eyes. So if you're ready to get lost in a love spiral, this is the dress for you.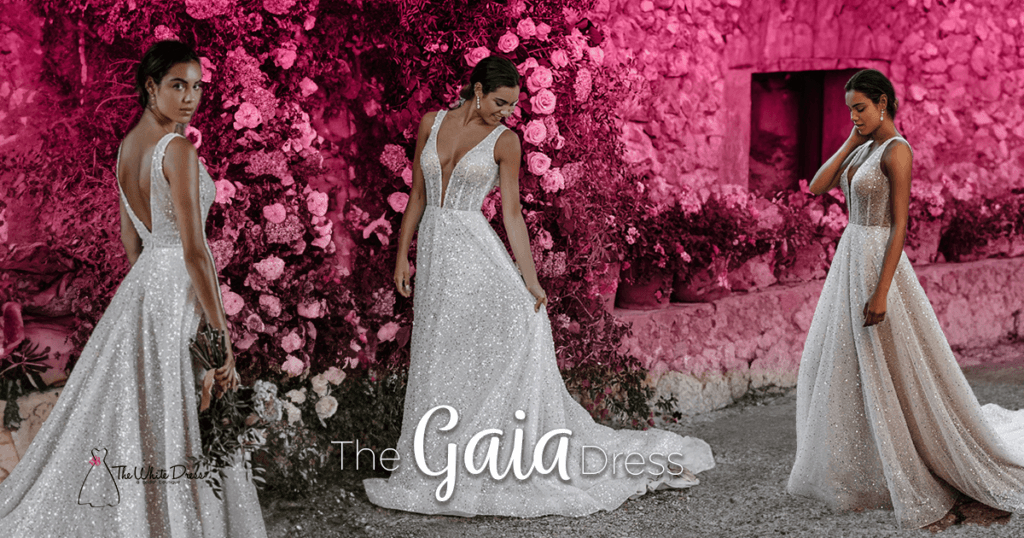 Let us help you find (Your Version).
In our minds, there's no era that isn't wedding appropriate—whether you take to the dance floor with your besties the moment "Our Song" comes on, slow dance to "New Year's Day," or pop (real) champagne to "Paris" at the end of the night. Whichever era resonates, make it yours!
And if finding your wedding dress via Taylor Swift era helps you form a picture in your mind of how you want to look and feel on your wedding day, we can help! Let us know what you're thinking, and we'll help you find the dress to match. Book your appointment today!