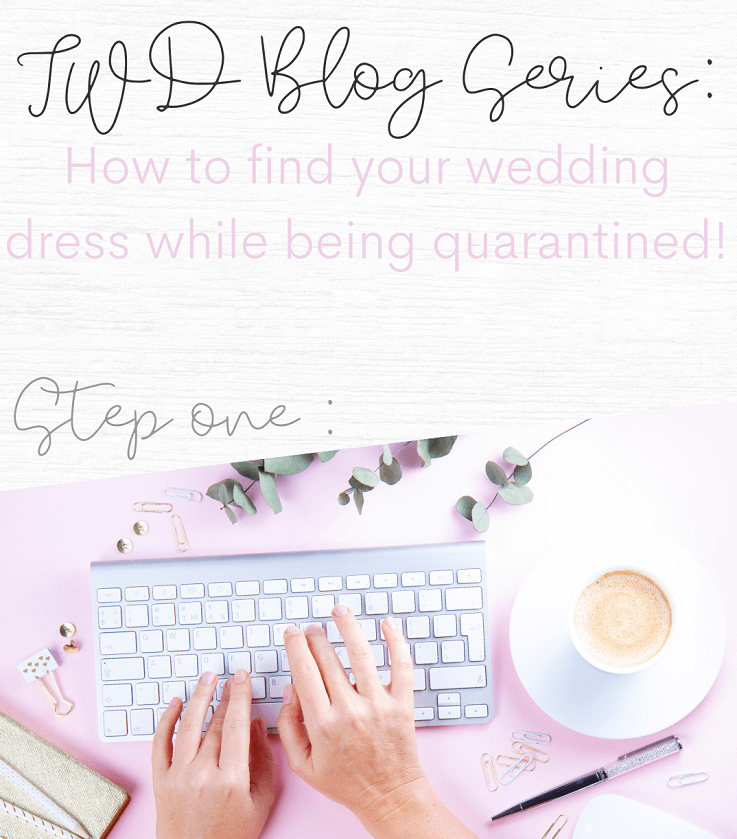 Blog Series: Part One
It is Spring of 2020 and you are anxiously awaiting your upcoming wedding. All of the little details are coming together nicely. Then, all of the sudden you become quarantined and haven't said yes to the dress yet! But do not fear, you can still find that perfect wedding dress you have always dreamed of. Here at The White Dress, we offer a variety of ways to begin shopping for your wedding gown from the comfort of home.
Where to Start
The wedding world is usually a new place for most people and searching for that perfect dress is one of the most important tasks! The best place to start this fun endeavor is with research. Now, sometimes that word can sound overwhelming but it doesn't have to be! The majority of brides begin the hunt for wedding dress ideas on Pinterest. We love to see our brides Pinterest boards prior to coming into the boutique so we have a good idea of what type of styles you are liking. Additionally, TWD offers many tools on our website to help brainstorm more wedding dress ideas. Through our online Look Book feature, you can see a variety of styles, silhouettes, and designers (https://the-white-dress.com/search/).
Take the Style Quiz
It is always helpful to take our complimentary style quiz on our website! This is a great first step to take before heading to your bridal appointment. The quiz offers in depth questions about what you might be seeking in a wedding dress and what silhouette might be perfect for you.  The answer guide (also found on our website) will help to decode the mysteries of the various different wedding dress silhouettes!  https://the-white-dress.com/about/silhouette-quiz/
Bridal Shop Research
After you get an idea of what styles and wedding gown designers you may be liking, it is a good idea to search for wedding dress boutiques that offer what you are looking for – not only in terms of the designers or gown styles, but also in terms of experience level too.
At TWD, we carry styles for every type of bride. For boho brides, the designer Lillian West and the collection All Who Wander have many intricate lace designs, two-tone dresses, and unique features such as fringe and feathers. Allure Bridals and Madison James are two other designers we offer that fit the vision of a classic and sparkly bride. If you are looking for something sleek and stunning, check out our collection from Justin Alexander. Our designer Lis Simon is perfect for brides looking to create their own dress, whether that includes a flowy sleeve or an all over sparkle pattern. Stella York is one of our designers who has beautiful gowns of all varieties, and the best part, they are all at stellar price points!  Lastly, TWD carries an edgy and sophisticated private collection (meaning, this is available exclusively and only at TWD) for brides to explore as well.
And if our well over 500 5-star reviews on The Knot, Wedding Wire, and Google don't say enough, we definitely think that we cater to that perfect wedding dress shopping experience, making it fun and personalized for each bride that visits.
Explore Social Media
Instagram is a great resource when hunting for your wedding dress. Many designers have Instagram pages where they share real bride photos and inspiration. And to add to your bridal shop research, be sure to check out the social media of the shops you plan to visit too.  TWD's Instagram page, stories and highlights keep you up to date on the latest and greatest happening at the shop, including the oodles of beautiful gowns on our racks, and also features real life wedding photos from our wonderful #TWDbridetribe! And our IGTV has lots of useful content too – including a whole series dedicated to answering your FAQs, called Tuesdays with TWD.
Stay motivated during this time and explore all the wonderful options you have at your fingertips. We are here to help and would love to answer any questions you may have regarding the wedding dress shopping experience or wedding dresses in general. Text us anytime at (810) 588-6147 or send us an email at [email protected] and of course, feel free to message on Facebook or Instagram too!