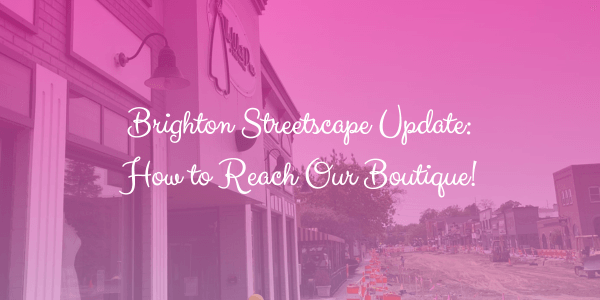 Brighton Streetscape Update: How to Reach Our Boutique!
Downtown Brighton is undergoing a major streetscape overhaul. Here's what you need to know!
As the old joke goes, there are only two seasons here in Michigan: winter and road construction. As it happens, road construction season is coming heavy for us in Brighton, and although we're excited for the results, we're also aware that the process will cause some necessary disruption for our business and customers.
We're aware that many of our brides may have questions about how the road construction will impact our boutique. The good news is that we are open and accepting appointments. However, accessing our building will be a bit different for the next few months, and we want to make sure all our brides know what to expect. So, if you're wondering how to reach us, or if you're simply curious about what all the roadwork is about, here are the details!
1. We are still open!
Currently, the section of Main Street directly in front of our shop is torn up and will remain so for approximately the next six to eight weeks. While the construction may seem intimidating, we do still have parking available in the back and are recommending that all our brides enter by that entrance as the front of the store is only accessible by a narrow walkway.
How to enter our boutique:
Our back entrance leads to a lobby rather than directly into our bridal store. To reach us, you will have to go down one flight of stairs and then back up another. For those with accessibility needs, there's a walkway through one of the neighboring buildings, or you can walk around to the front and take the pathway by the construction inside. (See our TikTok to watch all the ways you can get to TWD after you have parked!)
Unfortunately, we've noticed a lot of excess dirt from the construction being tracked into the store, so we're asking visitors to remove their shoes once they're inside. If you're visiting on a rainy day, you may want to bring slippers or cozy socks to wear once you are inside!
How to reach our location in Brighton:
On top of the roadwork happening in downtown Brighton, some of the surrounding highways (most notably Grand River) are also undergoing construction. The easiest way to reach downtown Brighton at the moment is via I-96, Exit 147 for Spencer Rd. You will be redirected from Main Street but will be able to reach our parking area with minimal hassle.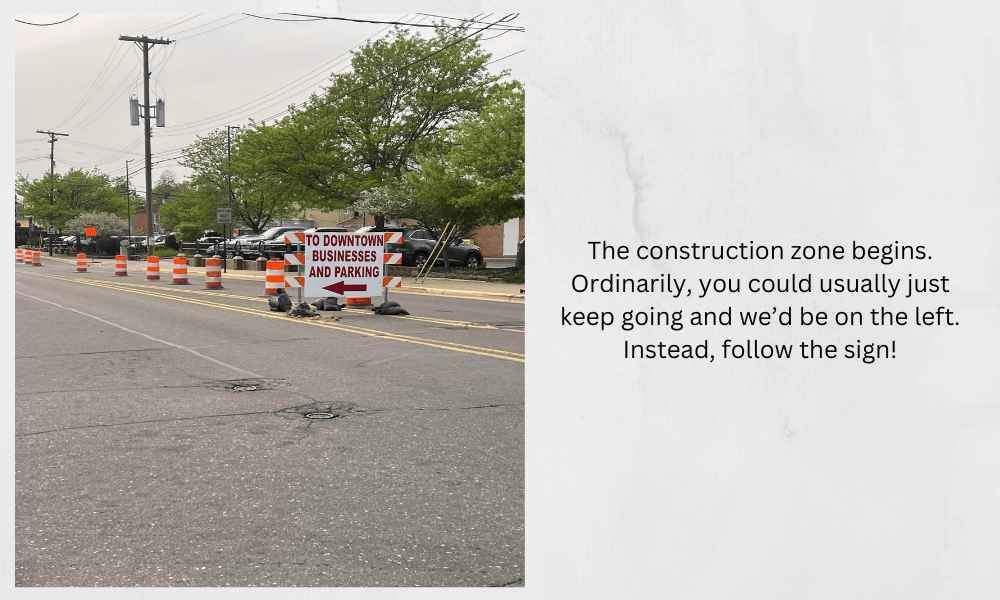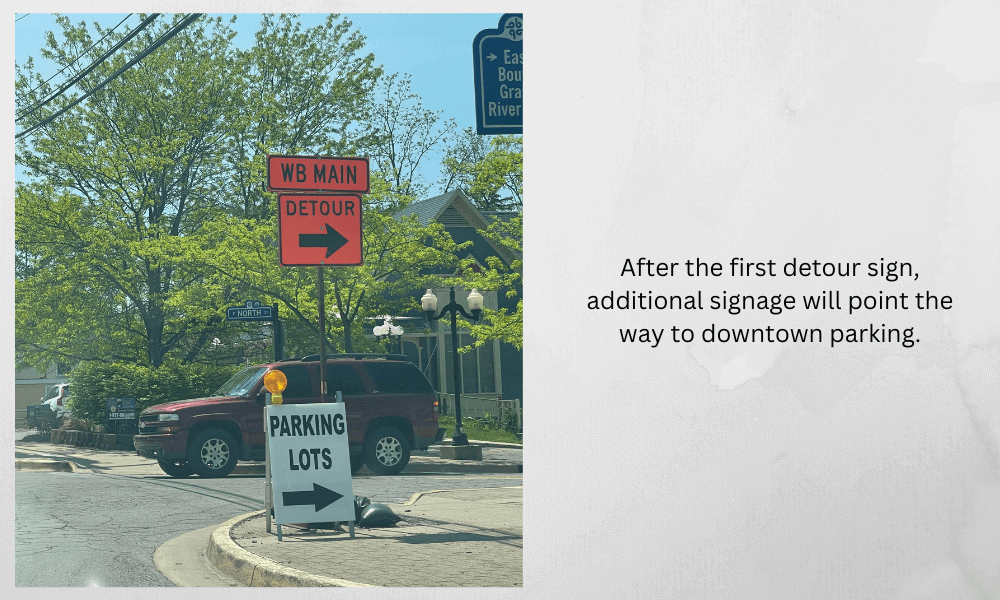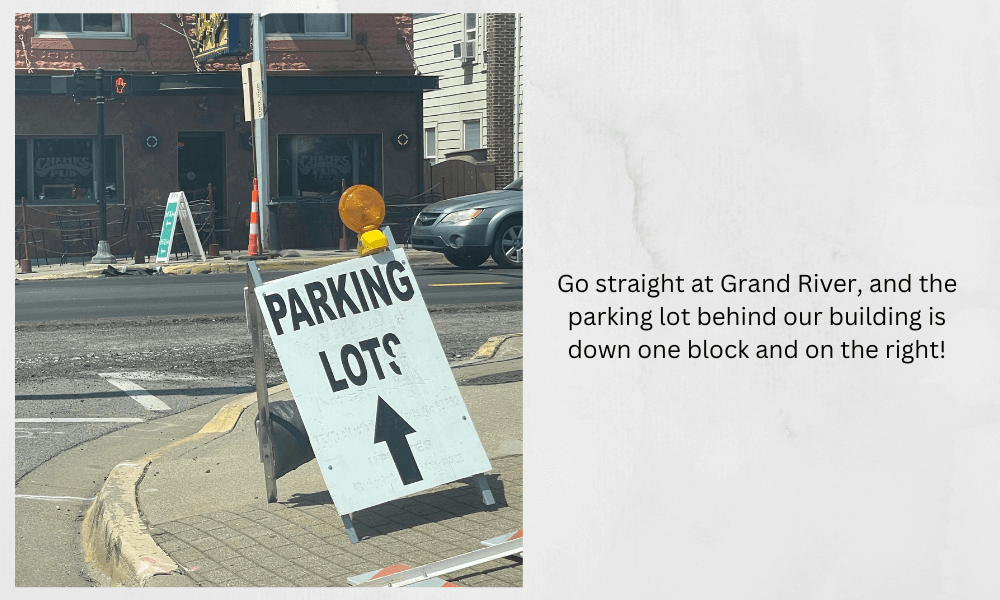 2. Street work is ongoing through November.
Currently the street improvements are expected to continue through the summer and fall, with streets opening bit by bit as road work progresses. According to reporting from MLive, the project is not experiencing any delays in materials so far, and is planned to finish no later than November.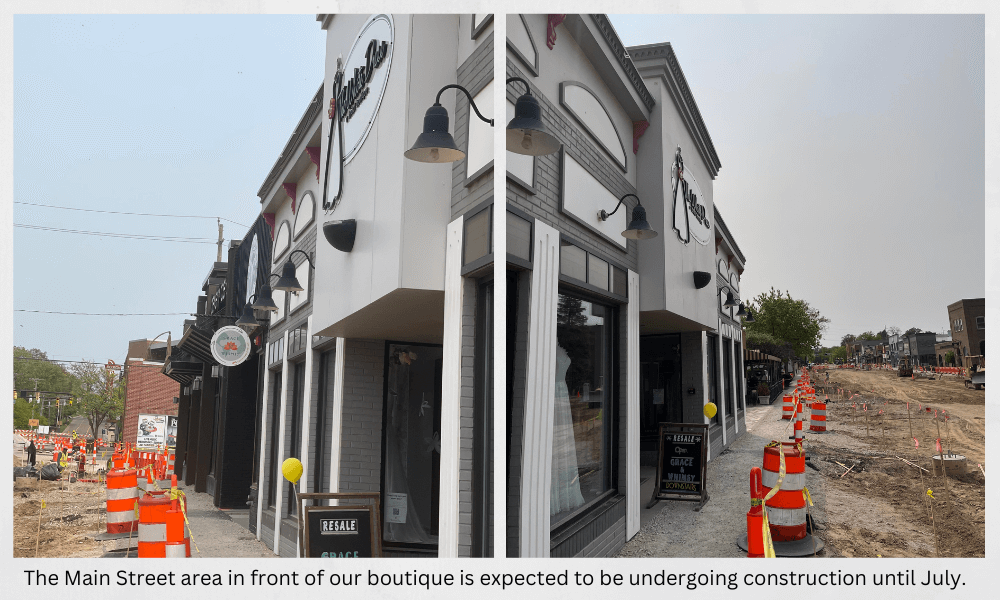 3. The result will be beautiful for Brighton.
While the construction is a temporary inconvenience, we're excited for the changes they will bring to our downtown area. The improvements will modernize downtown infrastructure in several ways. Sidewalks will become broader and streets narrower, creating more space for outdoor dining while retaining on-street parking. New spaces will be created for bike parking, and the street lighting will be upgraded to LED bulbs.
The streetscape plans also include a curbless plaza in front of Mill Pond which will create more flexibility for downtown events and festivals while also creating a pedestrian-oriented zone in the heart of the city, and right across the street from The White Dress! Overall, the designs are expected to revitalize the downtown by providing more accessible, walkable public spaces that offer more modern amenities.
The White Dress Is One of Michigan's Destination Bridal Boutiques.
We understand that no one looks forward to navigating road construction (as if you can avoid it in Michigan this time of year!). However, there are many reasons why The White Dress is worth it.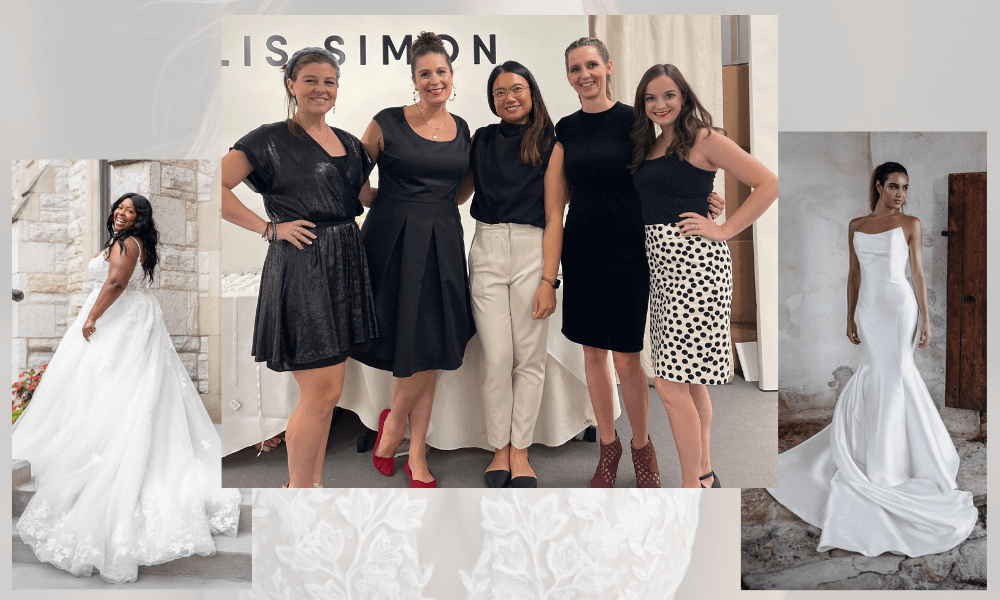 First of all, we pride ourselves on our selection. Our team makes multiple trips a year to top bridal markets to review the selection of dresses available and ensure that our brides have access to the latest trends. Not every boutique puts in that kind of effort, but we believe it is essential for helping our brides find that unique dress they've been dreaming of.
We also have one of the best sample selections for plus-sized gowns in our region. We want to give as many brides as possible an opportunity to try on a dress that is close enough to their size to offer a realistic sense of what their gown will look like on their big day.
Our TWD-ettes are also committed to providing a pressure-free environment. We don't run on commission, because we never want to push a bride toward a gown that she isn't fully in love with. This incentivizes us to prioritize our bride's comfort above landing a sale.
Finally, we will continue offering trunk shows of our favorite designers, where brides can get a sneak peek on upcoming collections, speak with the designers directly, and even request customizations on their dress. So, be sure to keep an eye on this space for announcements about upcoming events!
In the meantime, if you're ready to book an appointment, don't hesitate! We look forward to seeing you in our boutique soon!