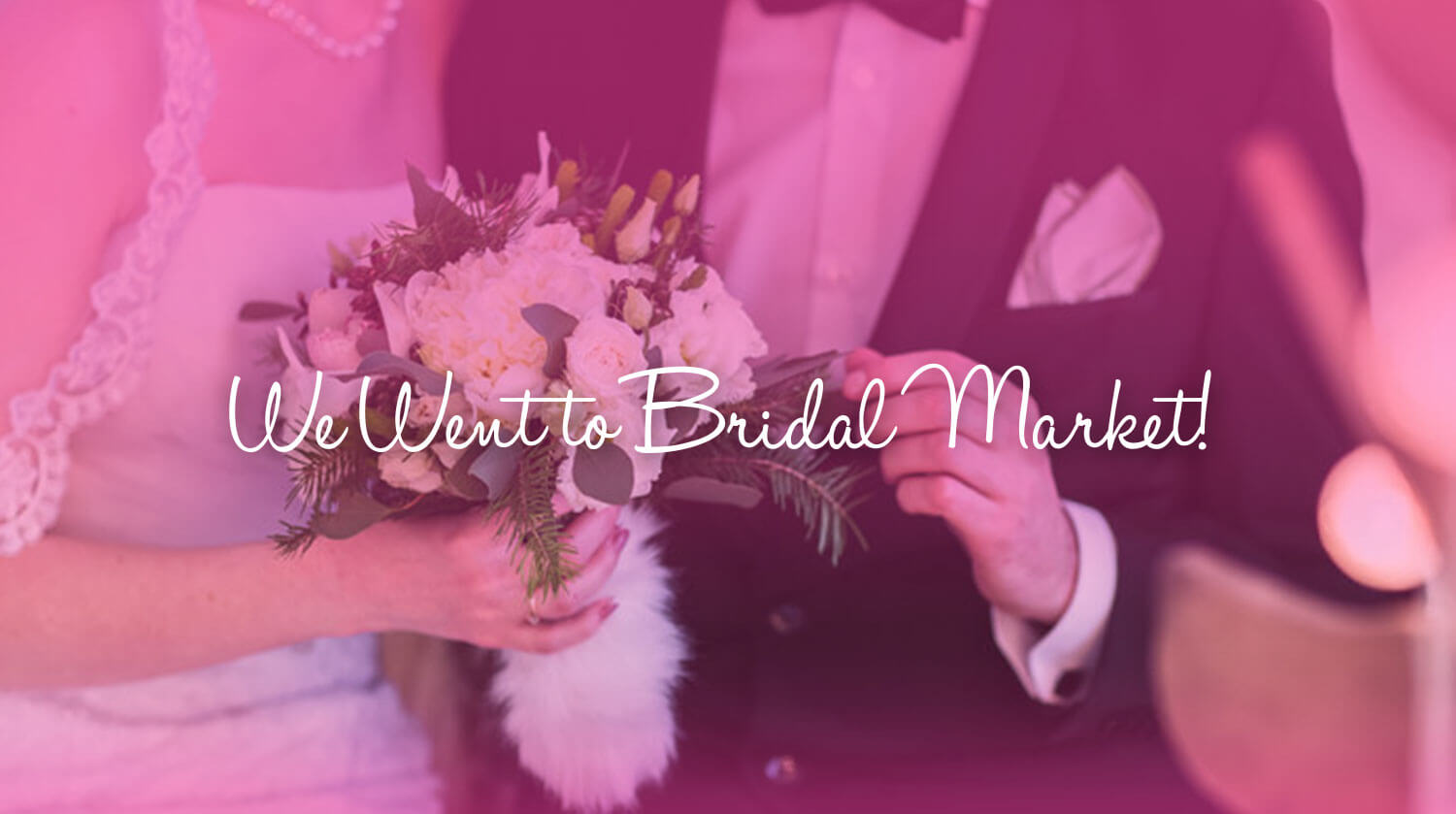 We Went to Bridal Market!
National Bridal Market is one of our industry's premier trade shows. Here's why that matters for you.
Of the pre-Covid traditions we missed as a bridal boutique, one of the biggest was our regular trip to Chicago for National Bridal Market. For the past few years, industry disruptions and Covid precautions have made it difficult to attend. So this year, making the trip in person was a big moment for our whole team.
Bridal Market is a semi-annual event that brings designers from all around the world together to the trade floor where they showcase their wares for industry buyers. Of course, for many designers, packing up trunk-loads of dresses and traveling hundreds of miles is only worthwhile if they know that those attending are qualified resellers. For this reason, Bridal Market is not open to the general public. To attend, buyers not only need to register, they must also demonstrate that they are active resellers within the bridal industry.
Bridal Market isn't just for wedding dresses. It's also for bridesmaid and flower girl dresses, headpieces and veils, men's formalwear, footwear, and even bridal lingerie. And it isn't just a time to look at products on display. We also have a chance to attend industry seminars and even see the latest gowns modeled on the runway.
We love Bridal Market. It's a time for our team to bond over a weekend trip to Chicago filled with gorgeous wedding dresses by day and cocktails by night. But as fun as Bridal Market is to attend, it's also important for our brides. Not every bridal boutique makes the trip, but we truly believe that in order to provide a first-class experience for our customers, we need to be at the forefront of industry trends. Bridal Market lets us do that. Here's why.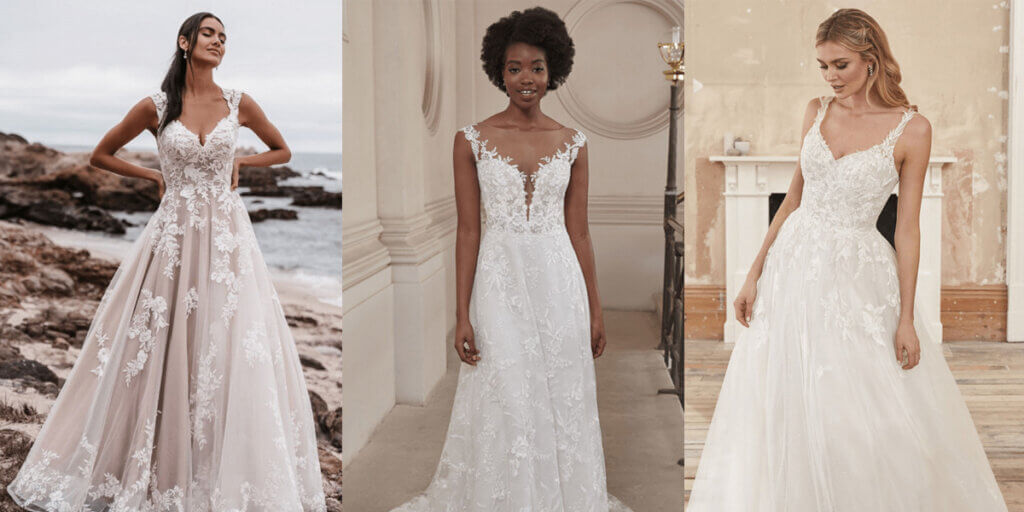 1. We get up close and personal with hundreds of dresses.
Over a hundred and fifty brands attend Bridal Market, so when we say it gives us a chance to experience the best the industry has to offer, that's no exaggeration. It's also an essential opportunity for us to see for ourselves what dresses look like. There's only so much you can gather from a product description or a photograph. Only by seeing the dresses for ourselves can we get a good sense of  their production quality and how they move when worn.
For example, one of the bridal lines we've been most excited about in recent years has been the Abella collection from Allure Bridals. The fabrics used for these dresses shimmered in a way that we had never seen before, and their true beauty is hard to appreciate until you've seen them in motion.
Bridal Market is our first opportunity to preview new collections and select sample dresses to carry in our store. While we continue to carry many of our sample dresses for several years, Bridal Market also allows us to add new dresses to our boutique each year.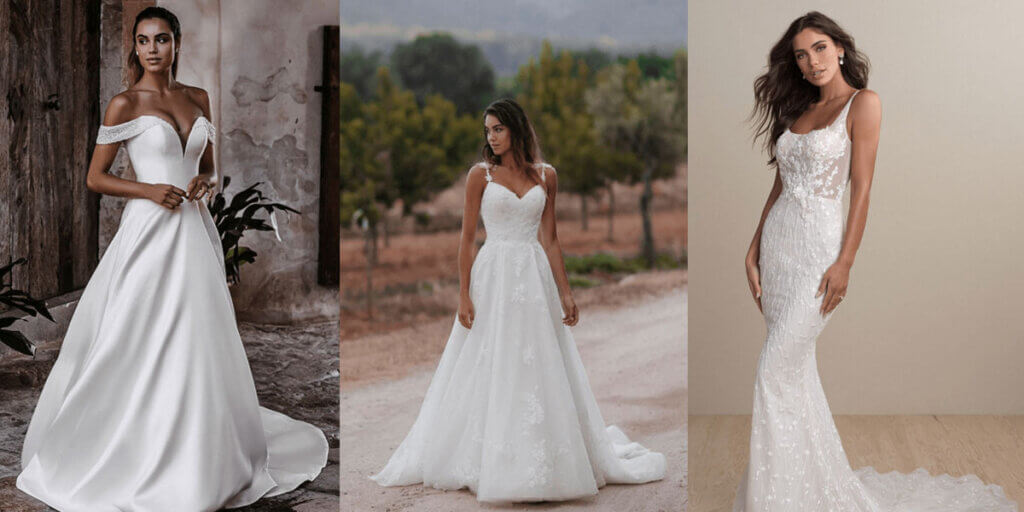 2. We keep an eye on emerging trends and what's hot.
Bridal Market is the Fashion Week of the bridal industry. Many of the dresses we're seeing are so new that they aren't even offered in stores yet—some may never make it into production. As we walk the trade floor, we're keeping our eyes out for the newest ideas so that by the time a bride spots a trend she would like to try, we already have a dress waiting in our store for her to try on.
That said, trend spotting isn't just about finding what's popular—it's also about knowing what our brides in Michigan want to buy. We're keenly aware of what styles will be popular among our brides, and are ready to take a deeper dive into those collections. As a result, we can present a wider array of gowns in the trend our brides care about (hello, boho!), so that no one feels like they're limited to the same selection.
We're also happy to order in a sample gown through our loaner program from any of our designers. So if you see a gown on one of our designers' websites that you just love, we can still get it for you, even if it's not one we usually carry in our store.

3. We meet designers and learn more about their collections.
If you've ever heard about trunk shows and been interested in attending one, than you should know that Bridal Market is where we make the networking connections that make these events possible. We're very selective about which designers we work with at our boutique. We only carry a certain number of labels, and we want to be sure that each designer is one our brides will love.
At Bridal Market, we not only get to see the gowns up close, we're also able to talk to the designers about their collections—where they find their inspiration, what their design ethos is, and how they choose their fabrics and embellishments. Sometimes, learning these extra details is just what we need to hear to decide carry a new line of dresses in our store or invite a designer for a trunk show.
For example, we just love the unique angle  the design team Lis Simon takes on their collections. Along with their more traditional collection, they also offer separate tops and bottoms that can be mixed and matched and sewn together to create a complete look. Or there's the Adore line by Justin Alexander, which offers simple, affordable dresses on a faster timeline. By meeting designers and talking with them about their collections, we gain a better understanding of why those gowns were designed a certain way and what makes them special.
Bridal Market lets us be certain we're giving our brides the latest and greatest gown selection.
We may be based in small-town Michigan, but there's nothing provincial about our boutique. You can be sure when you visit our store that our collection contains the latest styles. And, if you have any questions about possibilities for alteration, we can discuss those changes directly with the designer to see what can be done.
Finally, while this may be an unsung part of the experience, we also find that making the trip to Bridal Market is important for our team. Those of us who go are able to learn first-hand about the industry and gain the kind of insights that let us help our brides find their perfect gown. We're also able to share our thoughts with each other about the latest trends and become closer-knit as a team.
So if you're on the hunt for your perfect gown, there's no better time to book an appointment. With the season's latest trends fresh on their minds, our bridal team is bursting with inspiration.. Schedule your visit with us today.