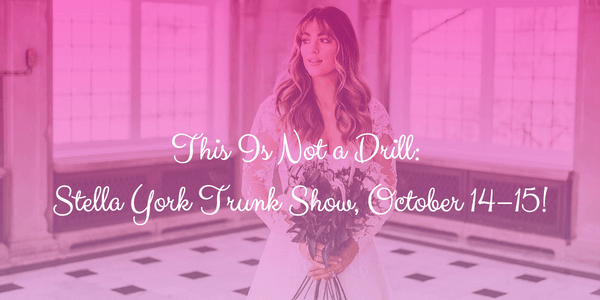 This Is Not a Drill: Stella York Trunk Show, October 14–15!
This isn't the first time we've hosted Stella York for a trunk show, but it never stops being exciting.
It's that time of year again: we're hosting a Stella York trunk show, and we couldn't be more thrilled! Only thirty shops in the world take part in Stella York's trunk show circuit, and while we've hosted them before, we're always honored to be part of that select few. More importantly, we love being able to offer our brides this inside look at one of our industry's leading labels.
Trunk shows are when designers preview their upcoming collections with brides, but this Trunk Show is even more! Stella York uses her Designer Preview Trunk Shows to collect brides' first impressions and incorporate that feedback into the next iteration of the collection. They're high-energy events, so you'll want to be as prepared as possible if you plan to attend. (Read about our last Stella York trunk show for more details!)
To make the most of our upcoming trunk show, check out these 4 tips and 5 reminders.

Tip 1: Expect things to be moving quickly!
Trunk shows are obviously an incredibly popular event. Because of this, our appointments have a strict 90 minute limit and are booked back to back. While we don't want to pressure you or make you feel rushed, you should also set your expectations with that time limit in mind.
Instead, when you find your dress, be prepared for a quick celebration before changing back into your regular clothes. If you're concerned that the hustle will disrupt your big moment, never fear. We do have an area set aside in the boutique apart from the dressing room area where you will be able to sip champagne and bask in the glow of bridal success while we proceed with the checkout process.

Tip 2: Come ready to say yes!
When we say trunk shows are exclusive, we really mean it. The dresses that come into our store only stay in that form for that weekend and that weekend only. After they leave our shop, they undergo alterations based on feedback and are modified before the next trunk show—which is generally the very next weekend.
This is part of why trunk shows are so thrilling to experience. If you find a dress you love, it will be a one-of-a-kind gown. But because the dresses change so fast, you have to be decisive. You won't have another opportunity to try it on!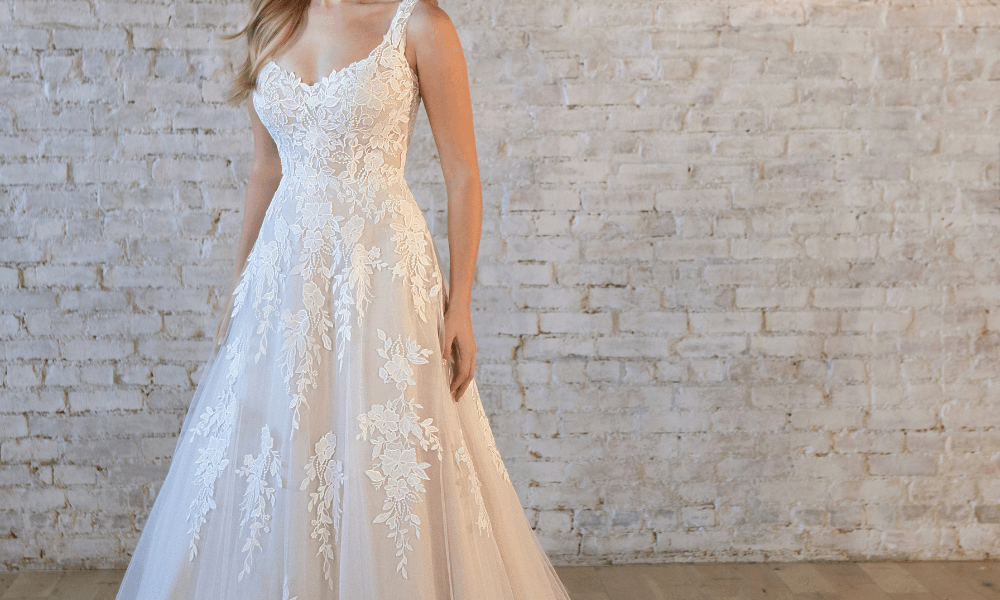 Tip 3: Come ready to give feedback directly to the designer.
Stella York designs the trunk shows so that they can see how brides react to their dresses in person and modify their collection accordingly. Designers are mostly focused on your immediate reaction: does this dress strike wedding bells in your heart or not? So don't feel pressured to offer a lot of detailed feedback.
Instead, make it your goal to try on as many gowns as you can. Remember, trunk shows are a fast-paced environment. The longer you linger, the fewer dresses you'll be able to try in order to find "the one."

Tip 4: Be prepared for LOTS of people (and dresses!) to come in and out of your room.
Because this is such an important part of Stella York's design process, there will be more people than usual in the shop at that day. We try to give as many brides as possible a chance to try on these dresses, and then of course there are Stella York's team and our own TWD-ettes, who are all running full steam ahead.
We will always do our best not to invade your privacy, but with so many people coming and going, and with the dresses passing between so many hands, there will be more people entering and exiting your room than usual.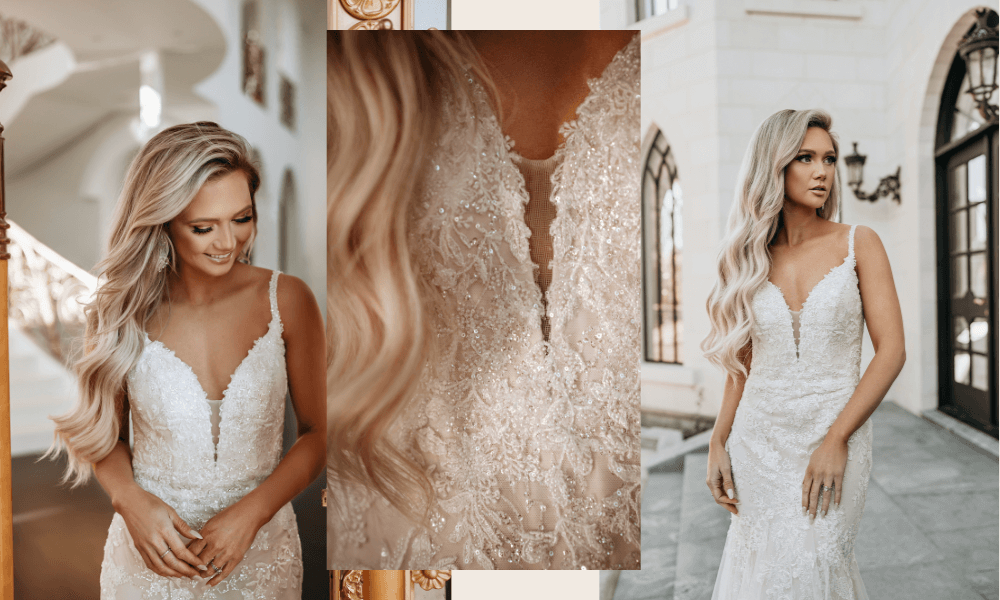 Reminder 1: No photos to protect the designs of Stella York.
No matter how excited you are to show off you trying on dresses to friends and family, remember that these are still early designs. These gowns truly are a sneak peek at the collection, so it's up to you to protect the secret! However, that all changes if you say yes! You are welcome to take any and all photos you need in the dress you said yes to!
Reminder 2: Let the stylist bring the dresses to you.
Trunk shows are always days when there's a lot of bustling around the shop, so it's not a good time for you or your entourage to have a look around. To ensure everything goes smoothly, we do ask our guests to remain in the room and let the stylist do the hard work and heavy lifting.
Reminder 3: The wedding date must be after 5/14/2023.
This is a longer than usual order timeline for our trunk show dresses, so we are not able to work with a shorter time frame. Seven full months are needed, which as all readers of our bridal timelines article know, is already pretty tight. We cannot accept any orders for a shorter turnaround time, especially as this timeframe is built to allow for two months of alterations.
Reminder 4: We don't choose the sizes that come to us.
We do our best to stock a range of sample sizes in our store, but when it comes to a trunk show, what comes in is entirely up to the designer. In the past we have seen many size 10s, with a few in larger sizes.
Reminder 5: Trunk shows are not a sale!
However, the prices are GOOD. They always increase by the time the collection comes out, so this is a chance to get a great deal on two fronts: an exclusive dress at a comfortable cost.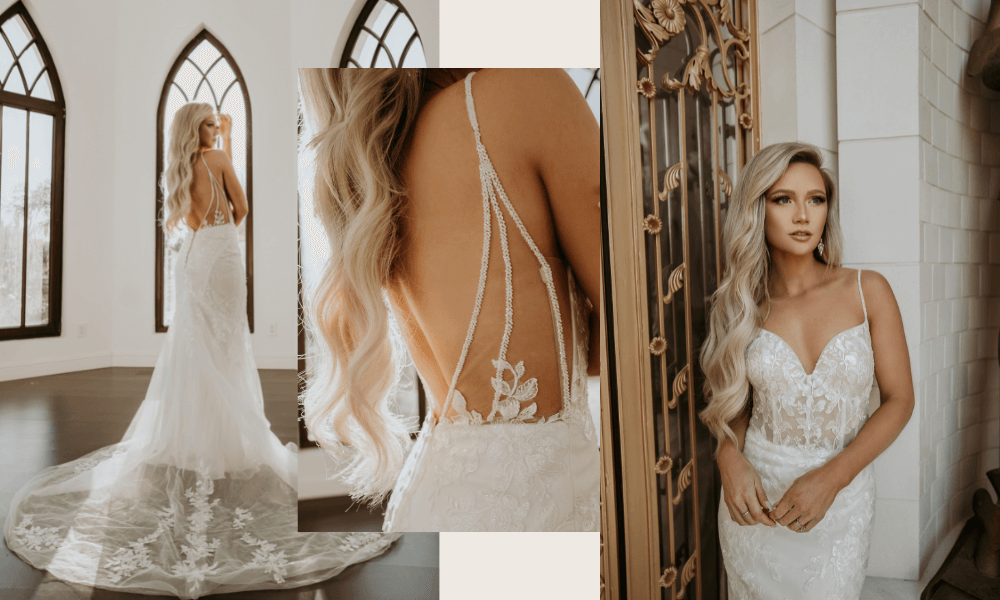 Come and join us at the heart of the action!
There's really nothing like an event like this to build up the bridal hype. With all the excitement in the air, we like to think it's easier for brides to step beyond some of their wedding jitters and instead immerse themselves in the fun of it all.
To be part of the trunk show, book an appointment with us on October 14–15th (that's a Friday and Saturday). We'll be thrilled to have you in our store, and we hope you enjoy the behind-the-scenes glimpse of what life as a bridal designer is like!