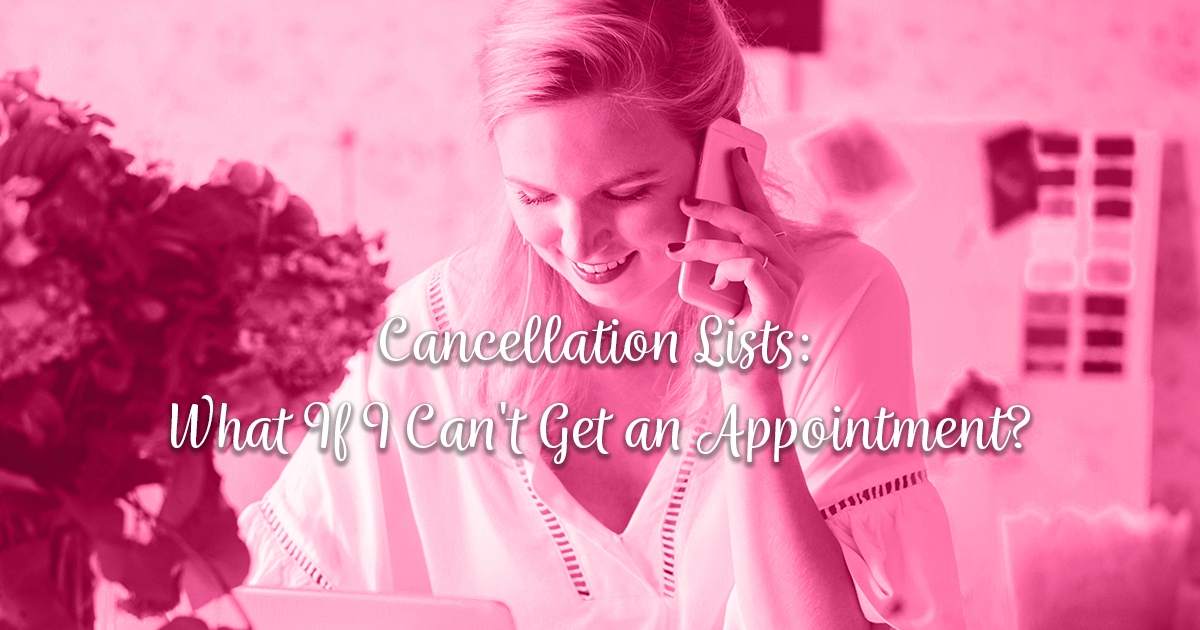 Cancellation Lists: What If I Can't Get an Appointment?
Here's our tips for making sure you can book an appointment during our busy season.
Amidst all the arrangements brides make in the early stages of wedding planning, "buying the dress" is usually pretty high on the list. However, it's all too easy for brides to make a list of the boutiques they want to visit, but put off booking an appointment until later. Maybe they're traveling, or they want to be sure a certain friend or family member can make it, and it isn't until they go to schedule their visit that they realize their chosen date has filled up.
No one wants this kind of headache. Fortunately, there are steps brides can take both to avoid getting on the list in the first place, and to work with the situation if you find yourself on the cancellation list.

1. Be aware of the busy season!
Typically, September through February are peak shopping months for wedding dresses. This is because most brides who are planning a wedding for the next summer or fall begin shopping 9–12 months in advance. You may think you're working ahead given that timeline, only to find yourself running into a bevy of brides who are following the exact same timetable as you. Setting your expectations correctly is the first step to avoiding disappointment!
2. Book well in advance.
Obviously, the best thing to do is to book your bridal appointment as soon as possible. Bridal timelines are often longer than many people realize, so if you don't want to limit your search to dresses you can only get in a quick timeframe, you should begin looking at least a year in advance. If you don't start looking until nine months ahead of time, and then have to wait a few weeks for an open appointment slot, it can leave you with a tighter turnaround for fittings and alterations.
3. Consider a weekday appointment.
Some brides love that Saturday energy in the shop, when other parties are around and everyone's excited. But for brides who want a more relaxed atmosphere or a longer appointment, weekday slots are often available. A weekday appointment slot can also be a more appealing option for brides who are feeling anxious and looking for more privacy, or for brides who want to bring a slightly larger entourage with them.
We also offer a 10% discount for first-time visitors who come into the store from Tuesday through Friday and buy their gown on the first visit.
4. Give yourself multiple weekend options.
If coming in on a weekday isn't feasible, give yourself multiple options. You can put your name down on the waiting list for the day you are hoping to come in on, and also book an appointment further down the calendar on a day when there are more spots available.
Or, if you really want someone special to be with you for the final choice and they can only do weekends, you can book a first look for yourself during the week and narrow down your options before bringing in backup.
5. Take your chances!
At the end of the day, we do maintain our cancellation list for a reason: We want to fit you in! But we also want you to feel as relaxed as possible during your appointment. So if a slot doesn't open for you on your desired day, don't panic.
While we recommend giving yourself plenty of time before your wedding to order a dress, if you're on a shorter deadline you still have options. Some dresses have shorter production lead times than others—some as short as two weeks to four months—and we can point you in the direction of those gowns if you're worried about turnaround time.
You can also keep your eye out for sample sales, which we run regularly. These are events where we sell our sample dresses straight off the rack—and at discounted prices. If you want to walk out of the store with a wedding dress in hand, these are for you.
We hope to welcome you to our store soon!
The bottom line is that if you have a date in mind for when you'd like to go wedding dress shopping, don't sit on it! Make a bridal appointment earlier rather than later if you want to avoid any stress about coming in on a particular day.
And when you do make it into our shop, be prepared to set your concerns at the door. We're here to help you find your dream dress, not to put pressure on you to make a purchase that doesn't make your heart sing. So whether it's a bustling Saturday morning or a quiet Thursday afternoon, we look forward to welcoming you to our boutique.