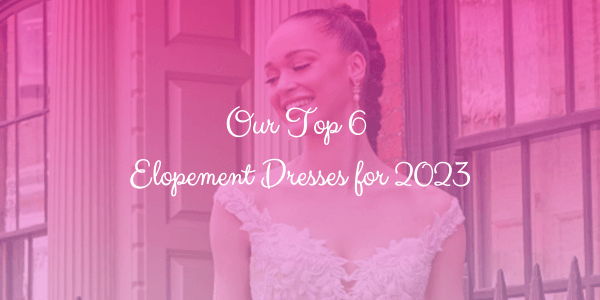 Our Top 6 Elopement Dresses for 2023
Looking for a wedding dress with a short turnaround? Here are our top picks.
Elopements aren't what they once were. In the past, elopements were decisions made in haste—like a Vegas wedding. Today, eloping couples are more often motivated by a desire to cut back on expenses. Large, lavish weddings are on their way out, and smaller, more intimate affairs have gained in popularity.
Just because a wedding is small, however, doesn't mean it's poorly planned. Many couples are still committed to a celebration, and while they don't want to pour tens of thousands of dollars into a venue and wedding dinner, they do want the day to be special—and that often means having a dress and beautiful photos to commemorate it.
What this means is that, while eloping brides often have a shorter timeline than those planning a more traditional wedding, many do still have both the time and budget to purchase a dress. That said, before we get into our dresses, let's cover some quick guiding tips:
It takes several months to sew a brand new wedding dress. The dresses we've picked are perfect for scaled-down weddings or courthouse ceremonies, but they won't be ready by the weekend! The timing on these dresses can range from just 2 weeks to 4 months in terms of a turnaround time, depending on the style, size and color!
If you need a gown ASAP, we recommend looking for a sample sale! At The White Dress, we run a couple of sample sales each year as we get ready to bring in new dresses, and it's a great way to find a really good deal! We also have many off the rack options for brides that are shopping outside of our sale days.
Lots of embellishment = lots of time (and expense!). If you are looking for sparkle, try to find a gown where the glitter is part of the fabric. Lace can also elevate the look of your dress without adding a lot to the sewing time.
Of course, there's nothing stopping you from getting married in the most elaborate ball gown you can find—we certainly won't! But if you're interested in a simpler gown with a faster turnaround, the following dresses will help you feel bridal without breaking the bank.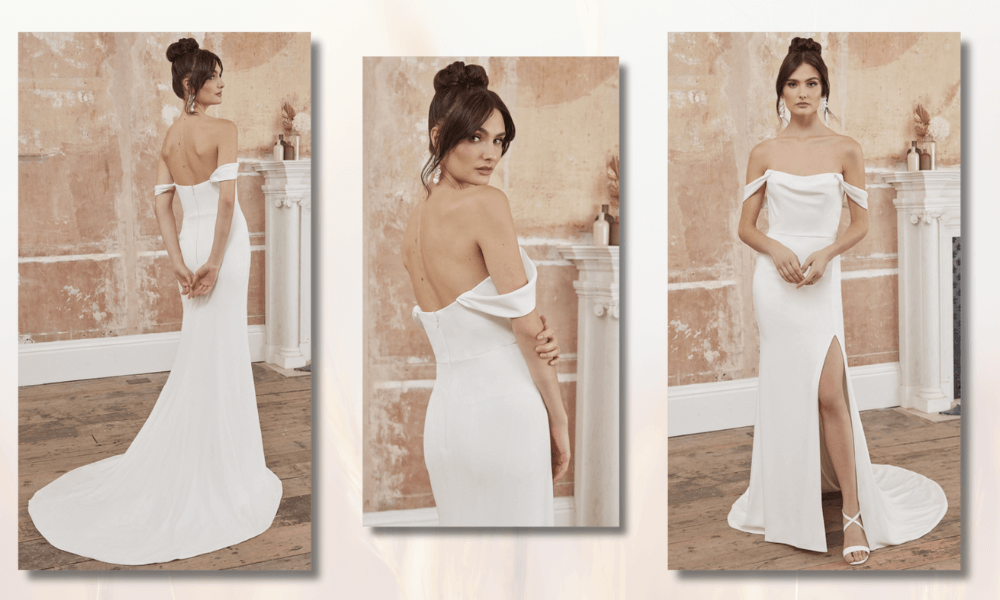 1. Fynn: Thigh-high slit with an edgy style.
There's something about Fynn from Justin Alexander's Adore collection that looks like you might be ready to ride away from your wedding on a motorbike. Maybe it's the slit or the off-the-should straps, but it definitely has a rockstar vibe. We'd love to see this dress in an urban photo shoot, paired with a leather jacket and boots.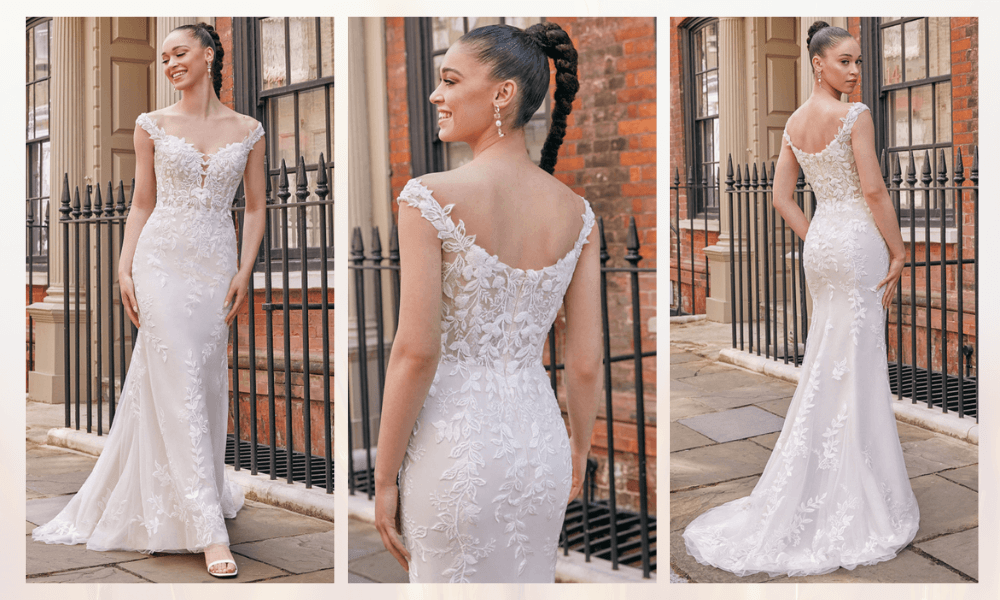 2. Karleen: Trailing lace for an ethereal aesthetic.
Going in the opposite direction, Karleen embodies the boho trend that has been so popular in recent years. With appliqué lace trailing down the skirt and a semi-sheer bodice, this gown would be a perfect choice for an outdoor ceremony in a garden. We can also imagine this dress as part of a stunning photo shoot in a national park or along a beach. Use the lace as your inspiration and get out into nature!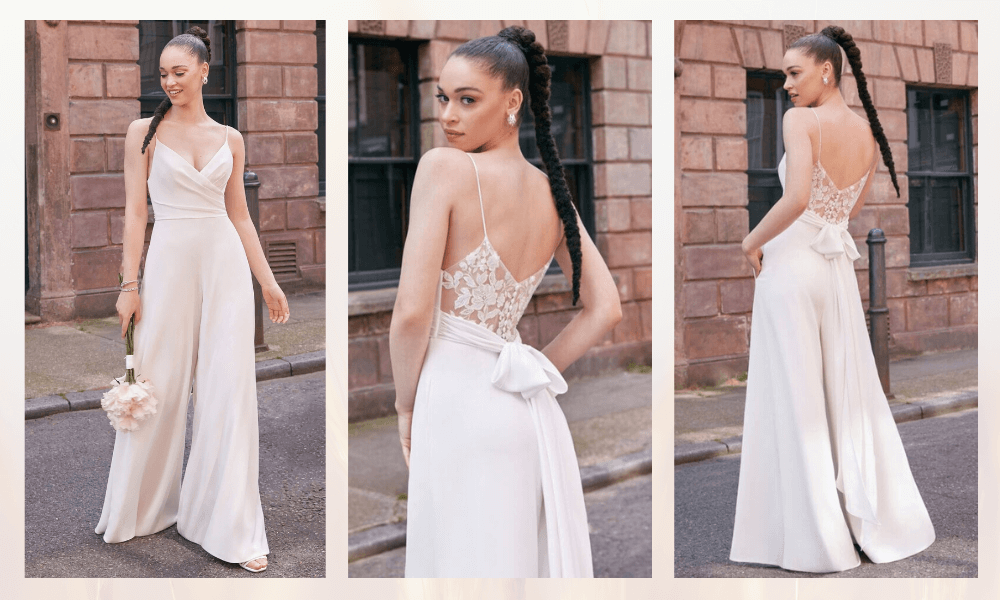 3. Kenedy: A flowing romper for the nontraditional bride.
For brides wanting to keep it cool, nothing says casual chic like Kenedy. The wide trouser legs give the illusion of a sheath dress, while the tattoo lace paired with the large bow at the back give the overall look a decidedly bridal feel. (And did we mention it has pockets?) We've also recommended this dress for bachelorette parties or rehearsal dinners. No matter where you wear it, its versatility will give you options beyond your wedding day.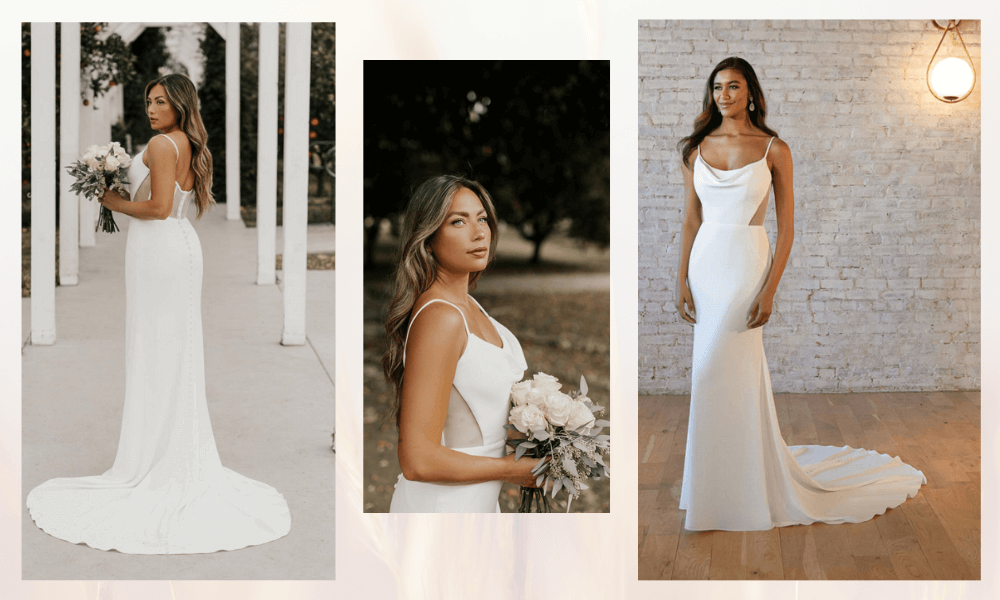 4. Hilton: Statement minimalism with exposed boning.
Interested in something with more structure? Hilton combines a flattering cowl neckline with sheer cutouts at the side and back. We love that the clean lines of this gown allow its construction to stand out. While the style is a little more formal, we think it would still make a perfect choice for brides who are opting for a smaller ceremony.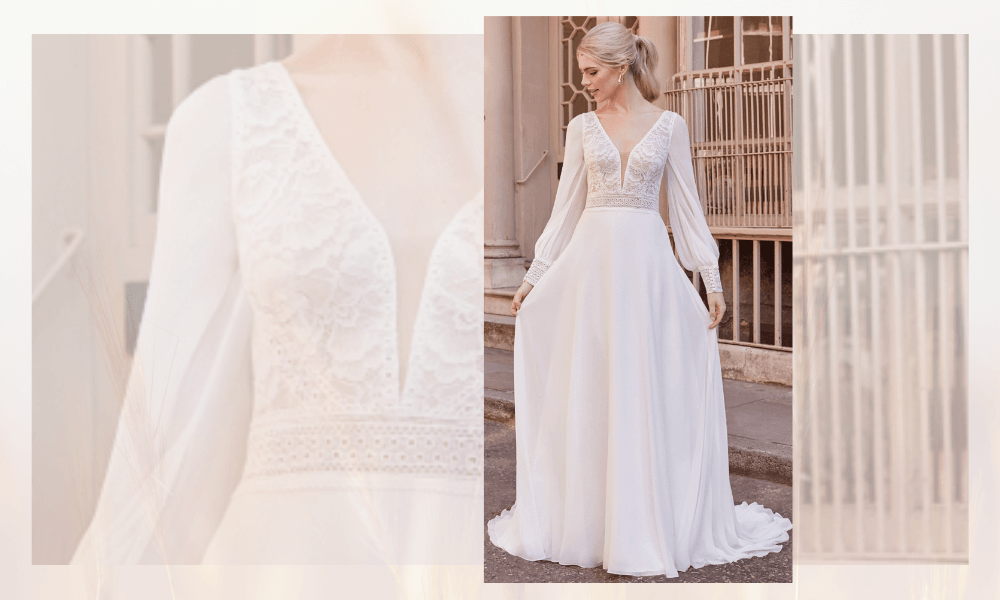 5. Griffin: Bishop sleeves and a graceful A-line.
There's something delightfully delicate about Griffin. Maybe it's the loose chiffon sleeves with the button cuffs, or the different styles of lace used in the bodice, or the illusion plunge at the neckline. Whatever it is, this dress is as romantic as it gets, and a perfect choice for brides who want to have a little bit of that princess feel without going over the top.
6. Drew: A backless slip dress in sleek satin.
If you're in the mood for a 90s throwback, Drew captures the decade perfectly. We love how the extra-long spaghetti straps emphasize the backless design. The lines on this gown are deceptively simple and daring—a little like an elopement! While we're a fan of the plain satin style, this gown also comes with a lace overdress if you want a more boho look—or if you want to change up your appearance during the day.
It's your wedding day. Treat yo self!
We love that modern weddings are giving couples more chances to embrace their individuality, to play with tradition, and to make intentional choices about how to spend their money. If one of your priorities is your dress, come shop with us! We're here to help you achieve the vision you want for your wedding day, and our commitment to a pressure-free environment means that we will work with your budget and not push you toward something that goes against the spirit of your elopement. Schedule an appointment today to see what we have to offer.