Introducing Our New Collection from Essense of Australia
Six new dresses from Essense of Australia bring lace, glamour, and bohemian styles to our boutique.
There's few things we love more than introducing a brand new line of dresses, which is why we're thrilled to announce that the latest collection to grace our stores comes from Essense of Australia. Essense is known for delivering bohemian styles with a daring twist. (Fair warning: They may raise some eyebrows if you're planning a church wedding!)
This designer also delights in details, giving these gowns plenty of luxurious embellishments. If you're looking for a high-end gown that lets you indulge all your wedding day fantasies, this is a collection not to be missed.
Even better, the gowns we have in our store right now isn't your standard release. Essense has selected our boutique to be part of their testing program, where they send new designs to see how brides respond to them. Four of the gowns in our store now are part of this testing period, meaning the brides who come try them on are some of the first to wear them this season!
We'll have more dresses coming in the coming months, but we encourage our brides to come in sooner rather than later so they have enough time to order the dress and have it come in time for the wedding. It takes a few months for these dresses to be sewn, so if you're planning a wedding for late 2021 or early 2022, don't wait to come try these dresses on.
D3023: A plunging V neckline with organic leaf appliqués.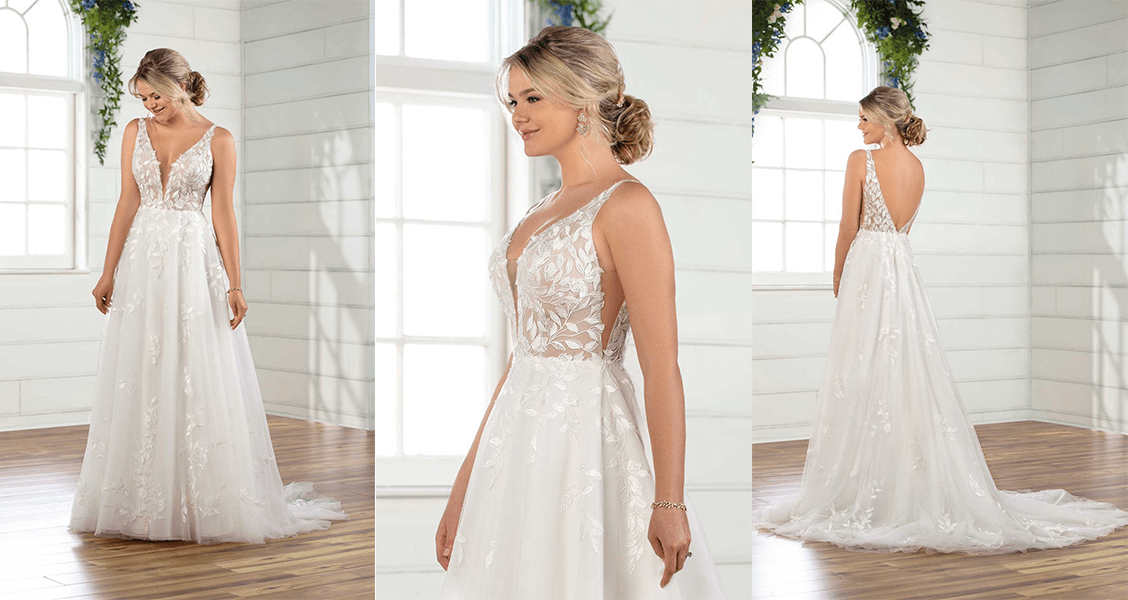 This gown features beautiful lace in an unusual leaf pattern, making it an ideal choice for non-traditional bride. The deep V on this neckline is repeated at the sides of the dress, as well as in the back, drawing attention to the sheer paneling. This dress comes with a Moscato tulle option for brides who want shades of blush in their wedding gown.
D2770: A stunning backless gown with a trumpet silhouette.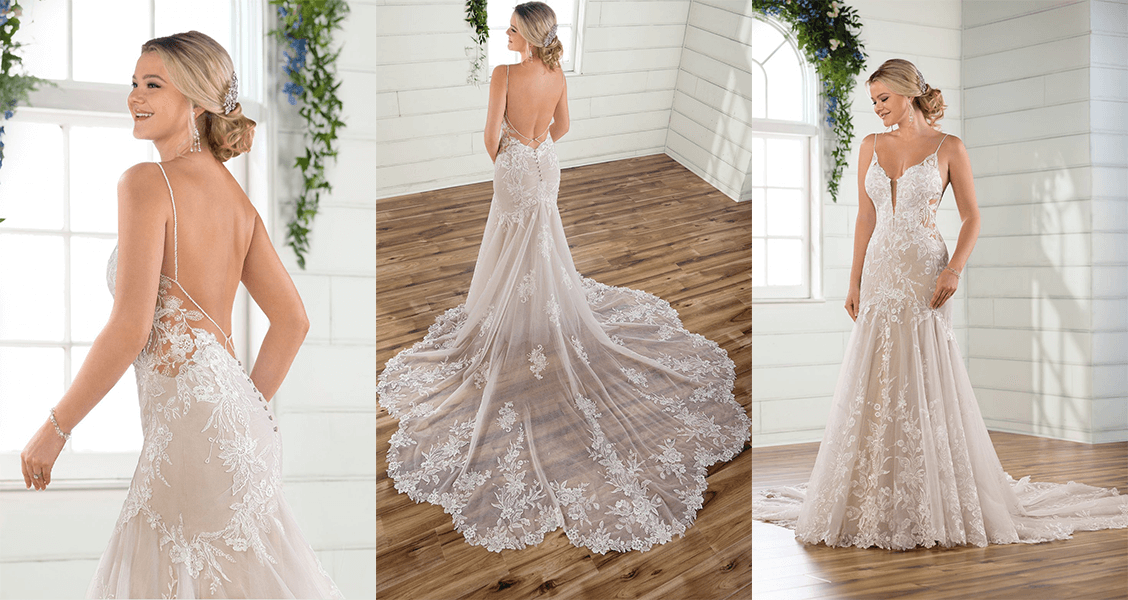 We said these dresses were daring, and this backless gown is not for the faint of heart. The low cut is set off with narrow, beaded straps, which crisscross right at the small of the back. Not to be outdone, the front of this dress brings plenty of drama by combining a low, plunging neckline with sheer side panels. It's a stunning gown that is sure to leave your partner speechless.
D2771: A fit-and-flare gown with a delicate beaded back.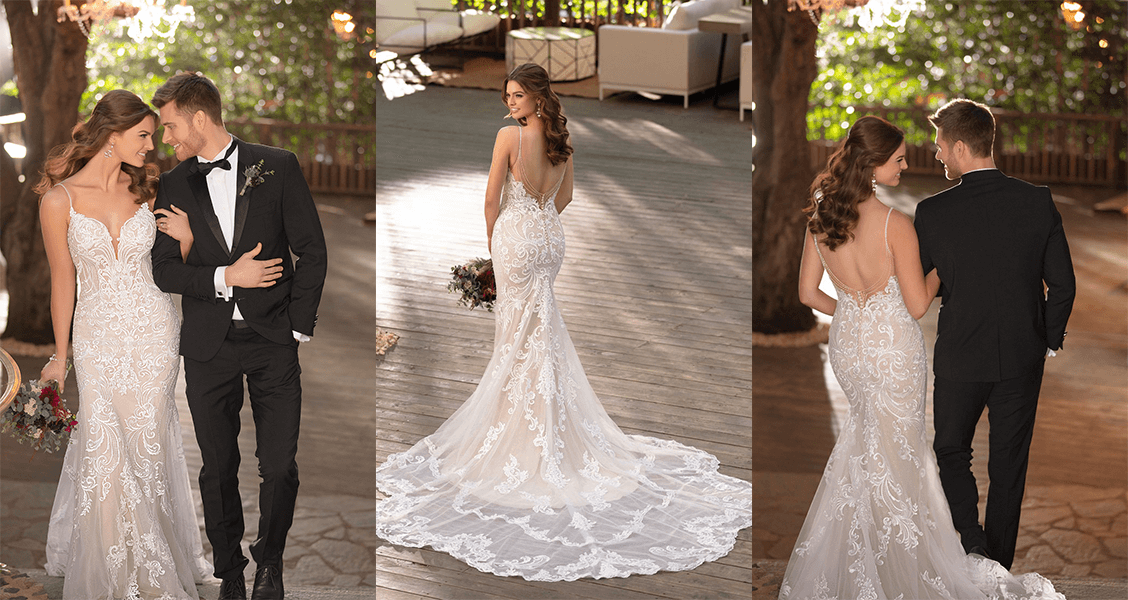 In a collection that prominently features low-cut backs, this dress still stands out. The delicate lines of beading at the back of this dress add to its bohemian style, which features plenty of embellishments throughout. We love how the double rows of scalloped lace at the hem of this dress look like waves breaking against a beach—the perfect complement to a mermaid silhouette!
D3247: A romantic, off-the-shoulder neckline accented by floral lace.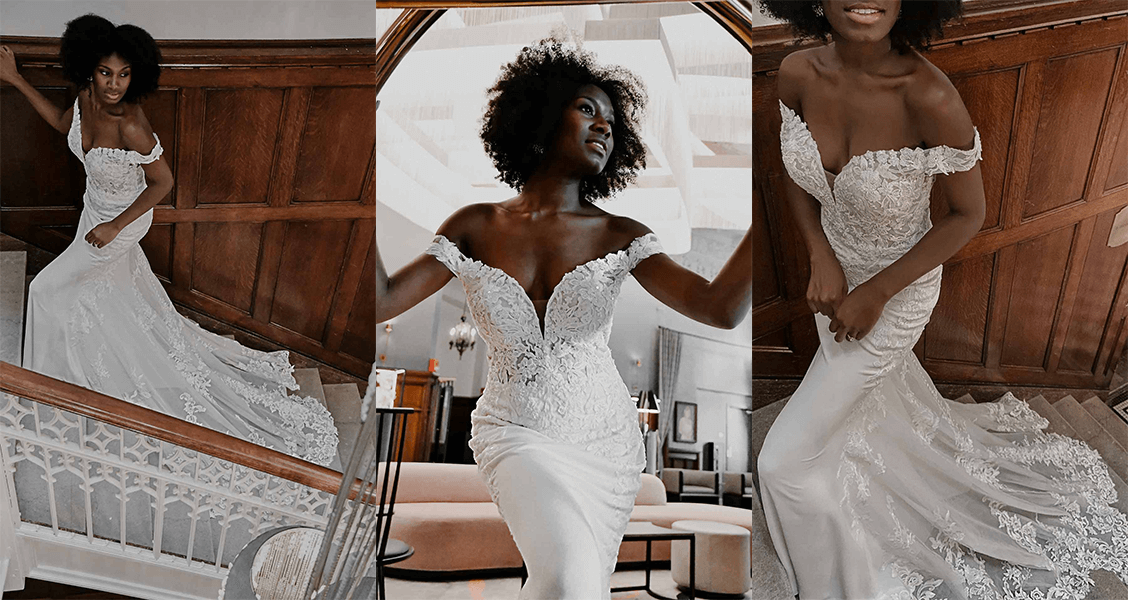 We always love a good Bardot neckline, and this gown delivers. The deep sweetheart cut of the  neckline flows perfectly into the off-the-shoulder straps, giving this gown an ultra-romantic vibe that we just can't get enough of. But that's not all: The back of this dress features a row of fabric covered buttons that run all the way to the edge of the long train.
D3094: A flowing A-line with a statement back.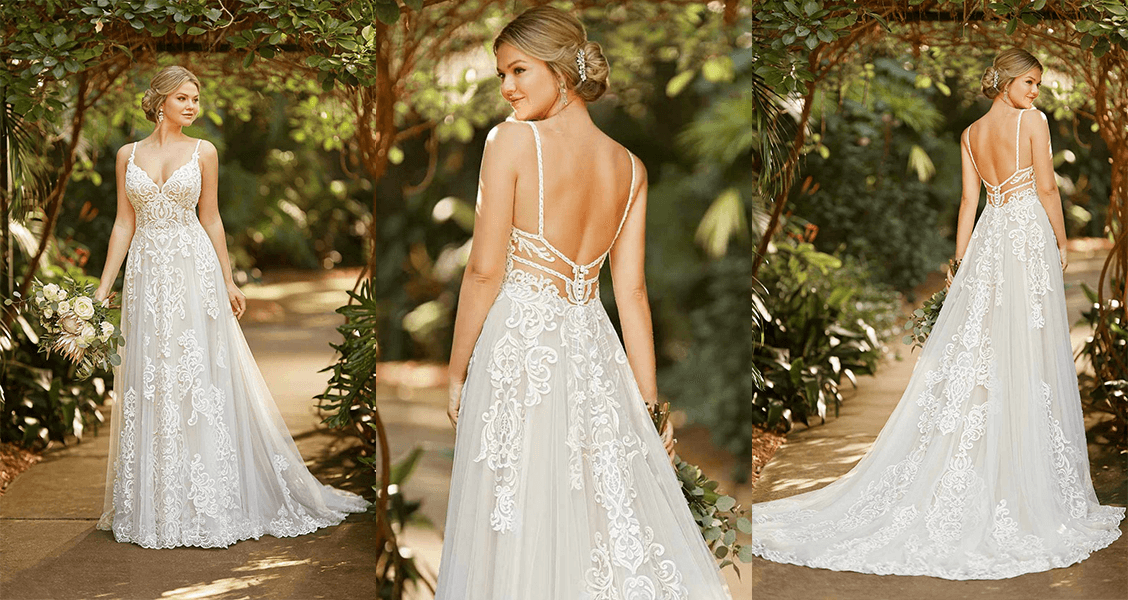 There's a lot to love about this dress, from the relaxed silhouette to the sweetheart neckline. The bold choice of graphic lace has a slightly art deco look to it as well, which is perfect for brides who want to harken back to the roaring twenties with their wedding look. We also love the back detail on this dress, where the long, beaded straps unite with the horizontal banding, perfectly framing the open back. The fabric of this dress has a subtle shimmer, adding to the opulence of this design.
D3284: Long sleeves and sheer lace for an unforgettable look.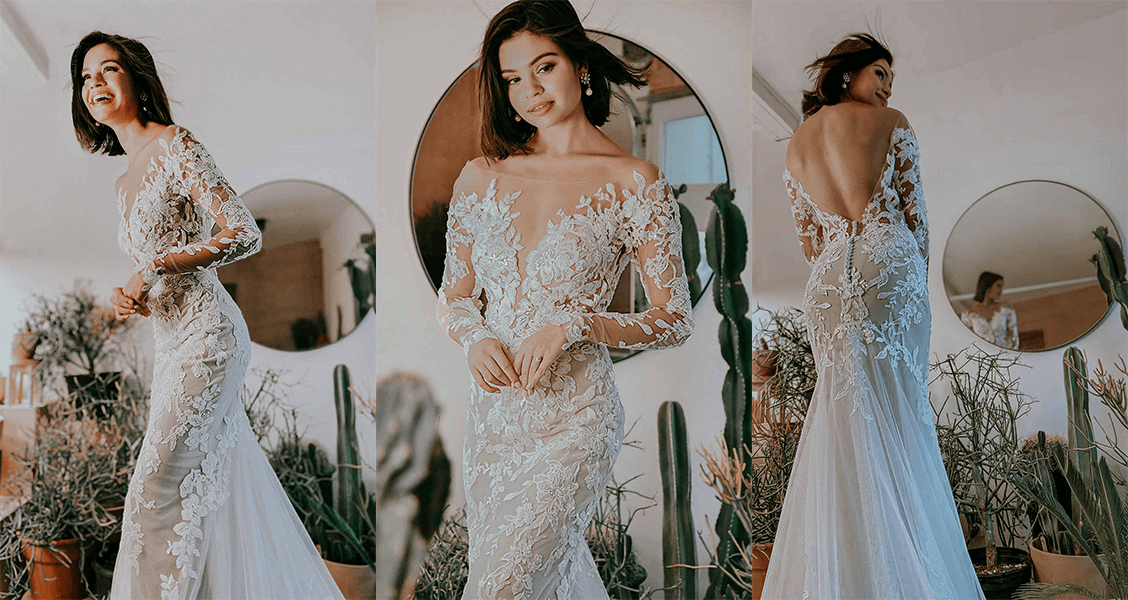 From a distance, this gown with its long sleeves gives the illusion of a more traditional gown, but a closer look will make you think twice. Not only does this dress showcase an open back with an off-the-shoulder neckline, but the sheer fabric of the bodice gives the lace a tattoo effect.
Everything about this dress is tastefully positioned to provide just the right amount of coverage. Our favorite detail? The short row of fabric buttons emphasizing the small of the back. This dress is a true show-stopper for a modern bride looking for an edgy gown to amaze her guests. While it is not yet in our store, it will be arriving soon, so let us know when you book your appointment if you're interested in trying it on!
Head to our Instagram for our dress naming contest!
You've probably noticed that these dresses are still going by their design number. We always like to give our gowns names, as it makes it easier for our brides to remember their favorites (and it's fun!). This time round, we're letting our brides take part in naming our gowns by participating in our Instagram contest, starting this May!
The rules are simple:
We will post a question box on IG stories where you can submit names for our new gowns.
We will take all the names and determine a top four for each gown.
Then we will go back to IG to announce the top four submissions and will announce winners. (If multiple people submit the same name, then the winner is the first person who submitted the name.)
The winner will win an olive + piper jewelry item from our selection!
There's a lot coming in the next few months, so keep your eyes on our social channels as well as our blog for more announcements. In the meantime, we hope to see you in our boutique soon!