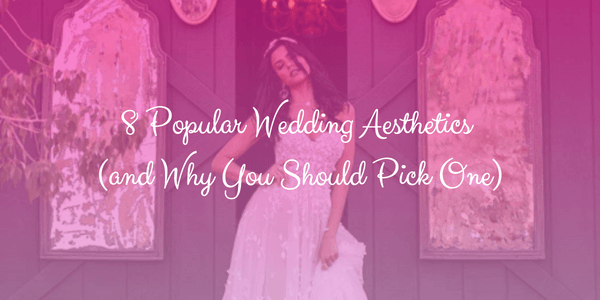 8 Popular Wedding Aesthetics (and Why You Should Pick One)
If you feel like you're drowning in options, making this decision FIRST can help.
Theme, style, aesthetic… pick your word. Nuances aside, they mostly boil down to one question: What is the unifying look of your wedding? While this may seem like just another question on a pile of big decisions, settling on an aesthetic early in your decision process can make a lot of your other decisions easier, help you stick to a budget, and leave you with a wedding that looks and feels exactly as you'd always dreamed.
This is because an aesthetic, apart from making everything look like it fits together, also helps you narrow down your field of options. If you choose a traditional aesthetic, then you can stop being distracted by cute, rustic venues. If you have your heart set on a vintage theme, homing in on a particular era can help you select the perfect wedding band. And if you're inspired to DIY as much of your wedding as possible, making that commitment early can help you avoid a stressful, last-minute rush.
Remember when we mentioned it helps with a budget as well? Some aesthetics are more expensive than others. Maybe you envisioned an ultra glam venue, and you find one that looks like it will do the trick—until you remember every other line item still to be accounted for. If you blow your savings on the venue, you could find yourself cutting corners elsewhere and feeling disappointed. On the other hand, if you start by choosing a more manageable theme, you can find a more affordable venue while still being able to afford all the little details that make everything seem coherent.
Of course, your dress will also play a big role in making everything come together, which is just one more reason to think about aesthetic before you go dress shopping. To get you started, here are some of our favorite aesthetics, along with gowns that will fit right in!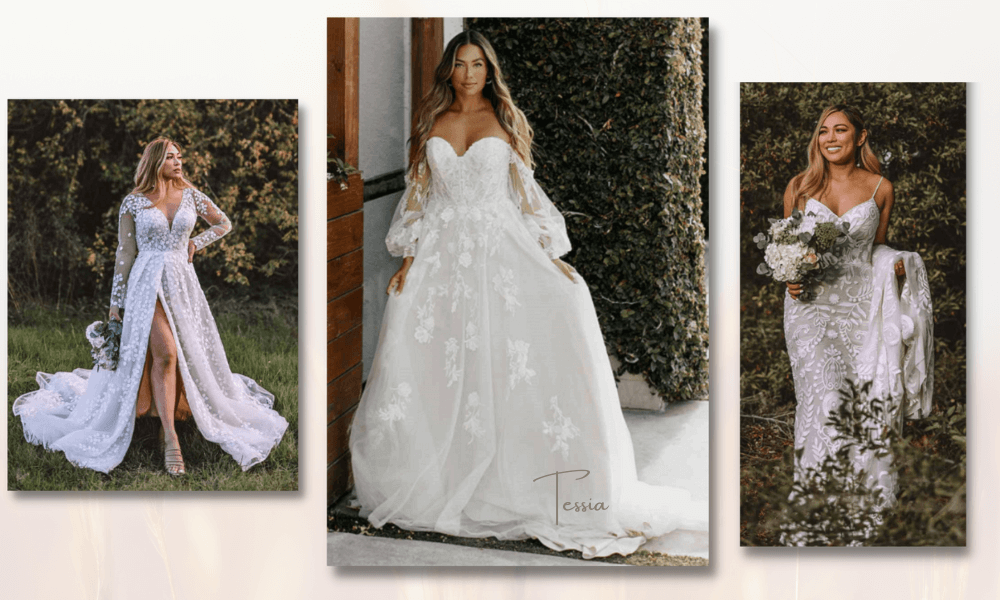 1. Boho: free-spirited and whimsical.
The boho trend took the bridal world by storm a few years ago, and the momentum has not subsided. And why should it? It's a supremely flexible style, able to be dressed up or down, indoor or outdoor, ready to go with the flow, wherever the flow may take it.
Our pick for boho is Tessia. We love the full, off-the-shoulder sleeves, as well as the subtle boning in the bodice. Meanwhile, the lace adds dimension and a unique character to an already one-of-a-kind wedding gown.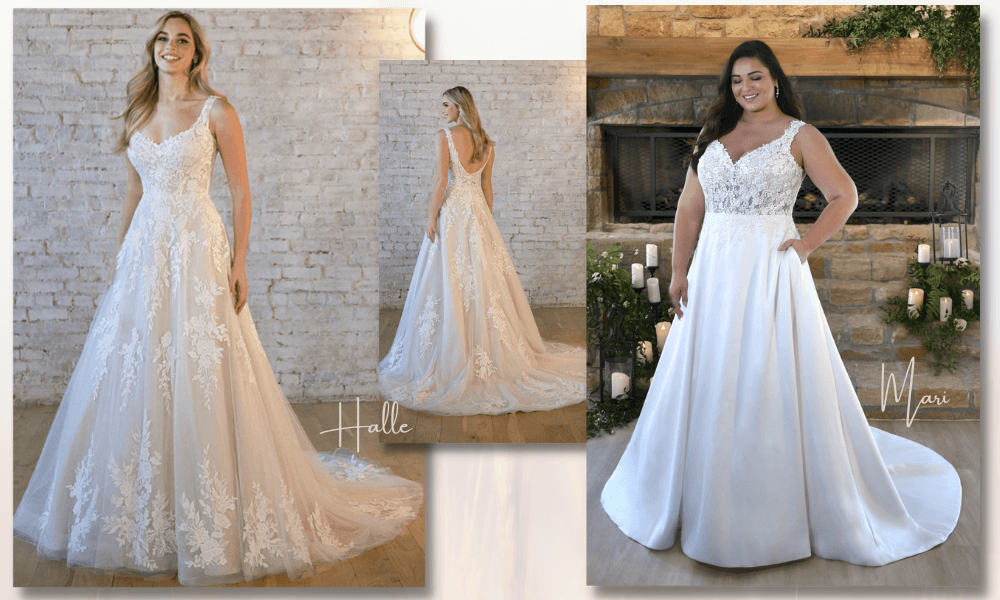 2. Formal: traditional and timeless.
Some brides form an image of their perfect wedding at an early age, and that vision never falters. They want a wedding that hews to all the classic archetypes, from the church to the ballroom. The timeless quality often has as much meaning for the guests as for the bride, reminding them of their own weddings, and creating an emotional environment for everyone.
To go with this setting, we recommend Mari. With a full skirt and gorgeous lace bodice, it's the quintessential princess dress for your perfect day.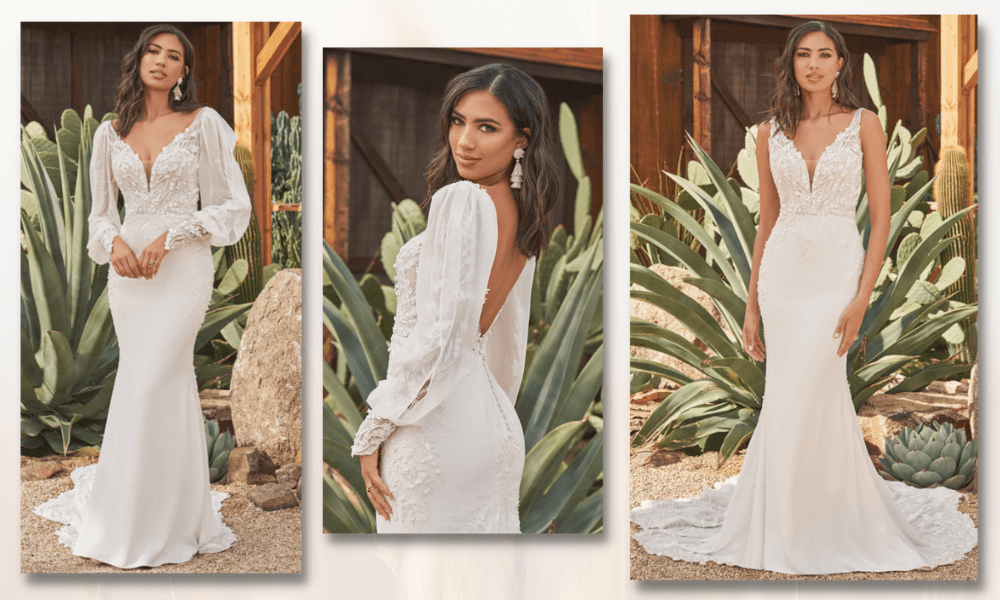 3. Glamorous: sparkly and luxe.
Not one to hold anything back? The glamorous aesthetic is for those who want to go big. This style embraces bling: metallics, crystals, and all things fancy.
If you're looking to make a statement, Milan does just that. The chiffon bishop sleeves on this gown combined with the lace cuffs set it apart, while the figure-hugging silhouette makes it a true showstopper.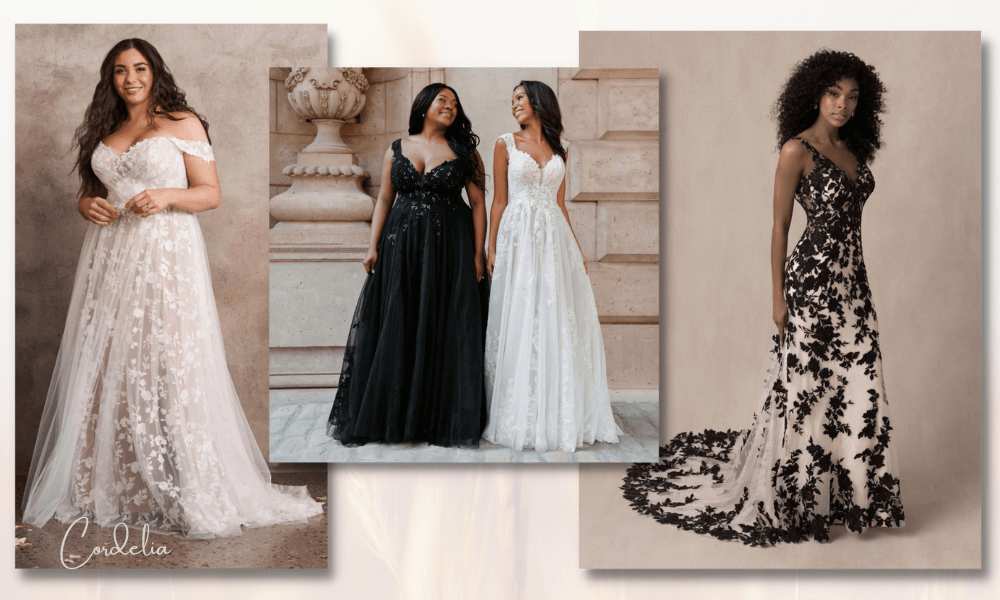 4. Romantic: dreamy and soft.
Yes, all weddings are romantic, but the romantic aesthetic focuses specifically on creating an ethereal ambiance through color, lighting, and texture. Don't feel like you're limited to pastels, however. One of the newer trends has been dark romantic: a moodier take that embraces rich colors and velvety textures.
If this aesthetic appeals to you, we recommend you take a look at Cordelia. The crisscrossed netting over the bodice hints at a more structured top while keeping the overall style practically weightless. And the champagne underdress makes the white of the lace pop, while also opening the door to more alternative color schemes.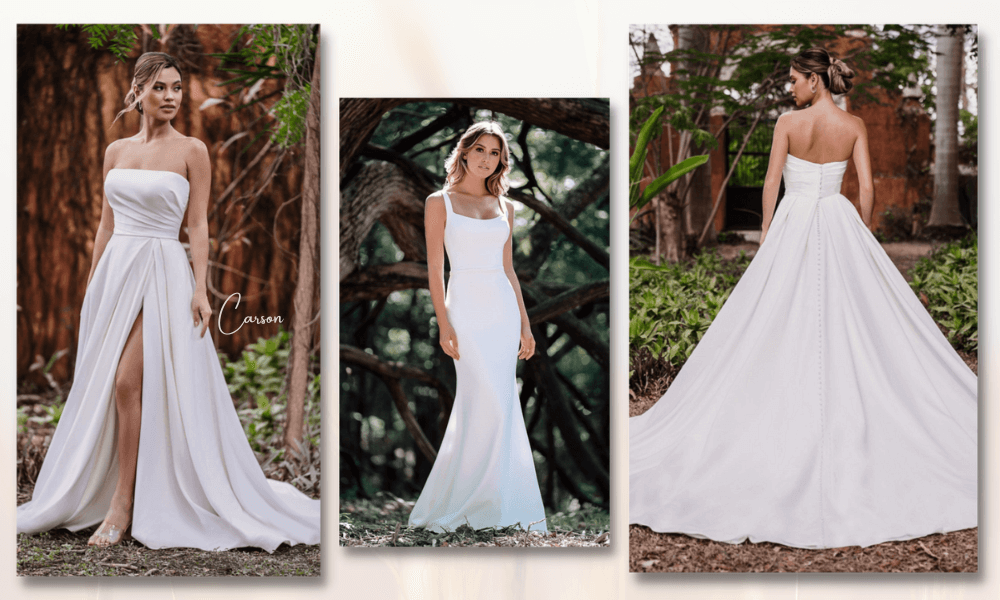 5. Modern: geometric and minimalist.
If you're the kind of bride who likes things simple, the modern trend may be for you. With an emphasis on clean lines and monochrome palettes, the modern style embraces the mantra "less is more."
Case in point: Carson. Fashioned from Mikado, this dress keeps the emphasis on form and structure while still making a statement.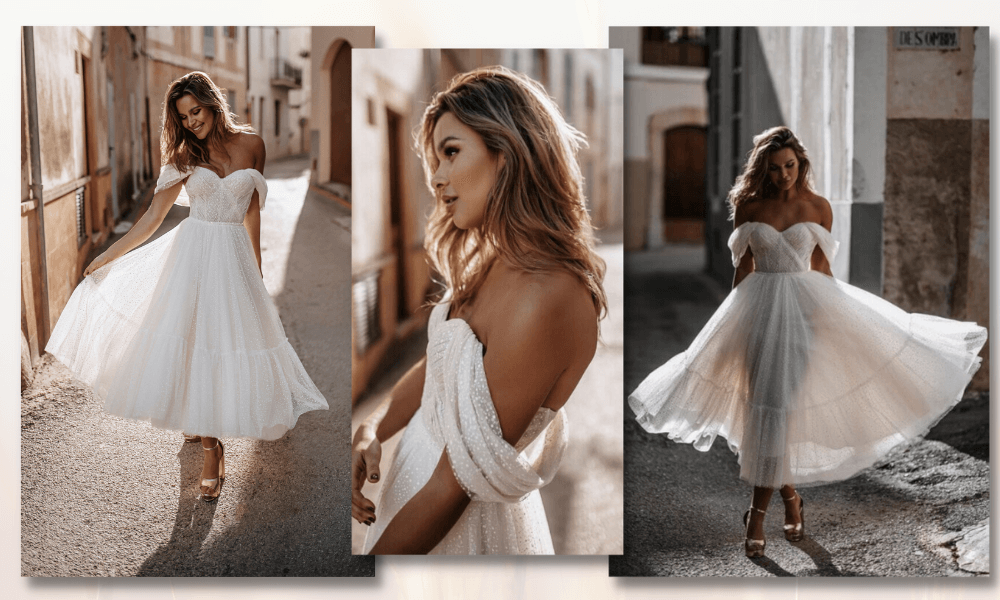 6. Vintage: retro classic.
Depending on your favorite decade from the past century, this theme could take you anywhere. Many brides enjoy this aesthetic as a throwback to a favorite style period, so the aesthetic can range from 1920s glam to 90s grunge. No matter the direction you take it, recreating a decade is a fun way to tap into nostalgia.
We have a dress right now that just screams 1950s. It may be the shorter hemline, or perhaps the fuller skirt, but there's something simultaneously old fashioned and alluring about Gita. Try it on for yourself to see if it takes you back in time.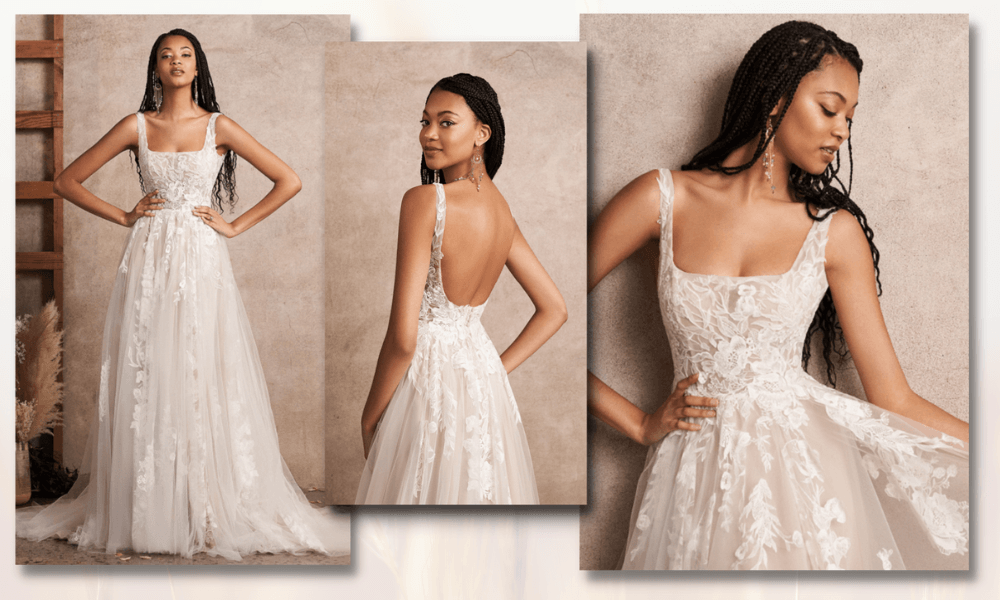 7. Rustic: natural and woodsy.
The rustic aesthetic has been a huge trend in Michigan, no doubt due to the plentiful woodlands and ubiquitous red barns. A rustic aesthetic makes the most of organic elements, with an emphasis on nature and the outdoors.
If this is your style, might we point you in the direction of Brynley? This dress features trailing lace to tie in with the woodland theme, but the square neckline and wide straps keep the dress grounded. You could dance in this all night and not have to worry about any kind of slippage.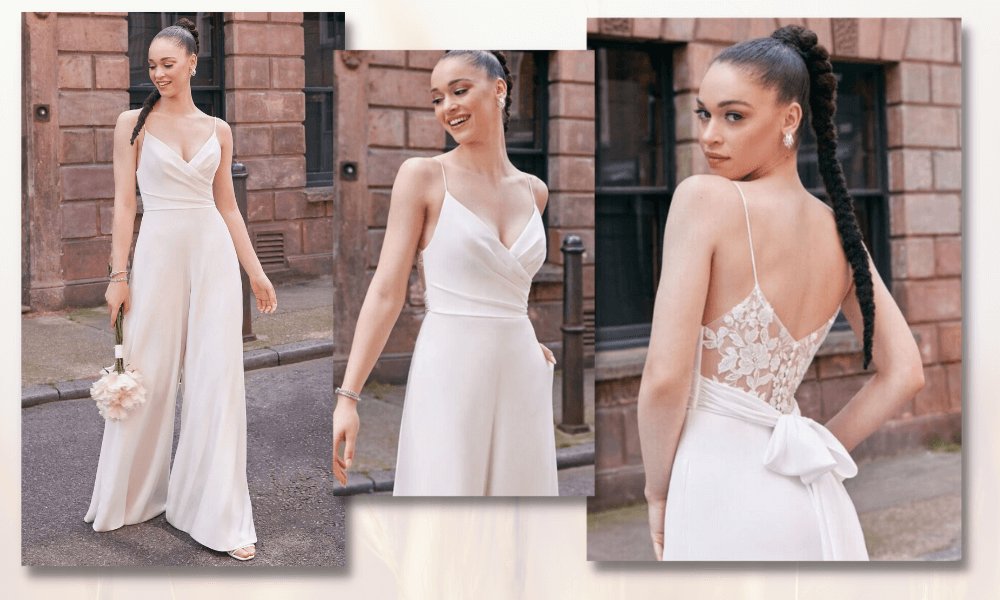 8. DIY: handmade and charming.
Many brides are pushing back against expensive weddings by springing for smaller ceremonies and scaled back venues. Maybe you're planning a backyard reception, with a potluck dinner and flowers from a nearby field. Why not? It's been done before.
As long as you're keeping it casual, why not go all the way? We love the low-key vibes of Kenedy, and a jumpsuit is a perfect match for a more relaxed aesthetic. Meanwhile, the tattoo lace and trailing sash bow keep the back of this outfit looking bridal.
Have your aesthetic figured out? It's time to find your dress.
As you can see, settling on an aesthetic brings a lot of focus to your wedding dress search. If you're feeling like it's brought you clarity, the next step is to come on in and try something on! Tell our TWD-ettes all about your vision, and they'll help you find a gown to match it. Book an appointment with us today to get started!