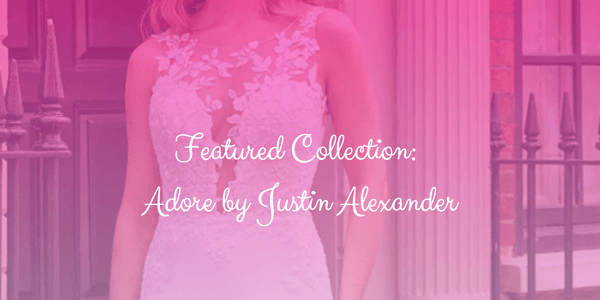 Featured Collection: Adore by Justin Alexander
One of our favorite designers is back with gowns more stunning than ever before. Check out the latest from Adore by Justin Alexander.
As you can easily imagine, we love a good wedding! And this fall featured a spectacular one between Justin Warshaw, the President and Lead Designer of Justin Alexander, and his bride, Kelsey Anne Turchi. Of course, all of Kelsey's looks were fabulous, and designed by the team at Justin Alexander. We thought we'd take this as an opportunity to share with you some of the latest designs we carry in our store—plus a few that evoke a similar vibe to the looks Kelsey chose for her nuptials.
While Justin Alexander launched the Adore line a few years ago as budget-friendly gowns with short turnarounds, more recent collections have come in at a slightly higher price point. Nevertheless, the amount of detail and embellishments on these dresses still makes them a great choice for any bride who is dying for sparkle but isn't ready to drop two grand on her gown.
If you're looking for a collection that can drop jaws and turn heads, look no further. Here are some of our top gowns from Adore, by Justin Alexander.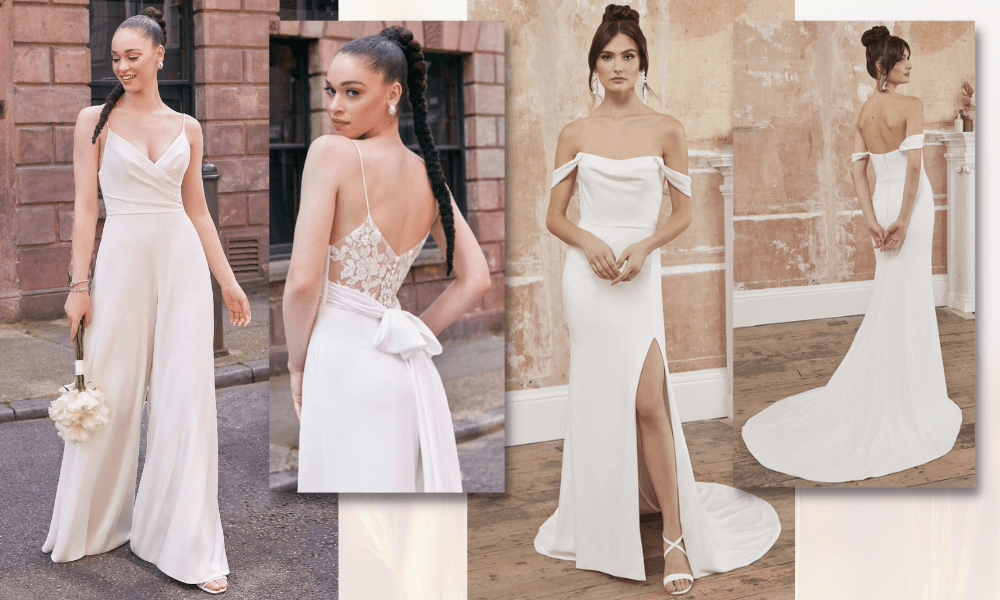 1. Kenedy and Fynn: for just a little bit of edge to your chic.
One of our favorite looks from the pre-wedding celebration was the pantsuit Kelsey wore to the welcome party. Many brides are looking for ways to step beyond tradition with their own style choices, and a sleek jumper or two-piece look is one way to go. We're particularly fond of Kenedy, a wide-legged number with spaghetti straps, an illusion back, and a trailing, oversized bow.
Another option for those who want to keep their look sharp is Fynn, a sheath gown in all crepe with clean lines and minimal embellishments. Instead, the stand-out details are all in the construction: off-the-shoulder sleeves and a thigh-high slit.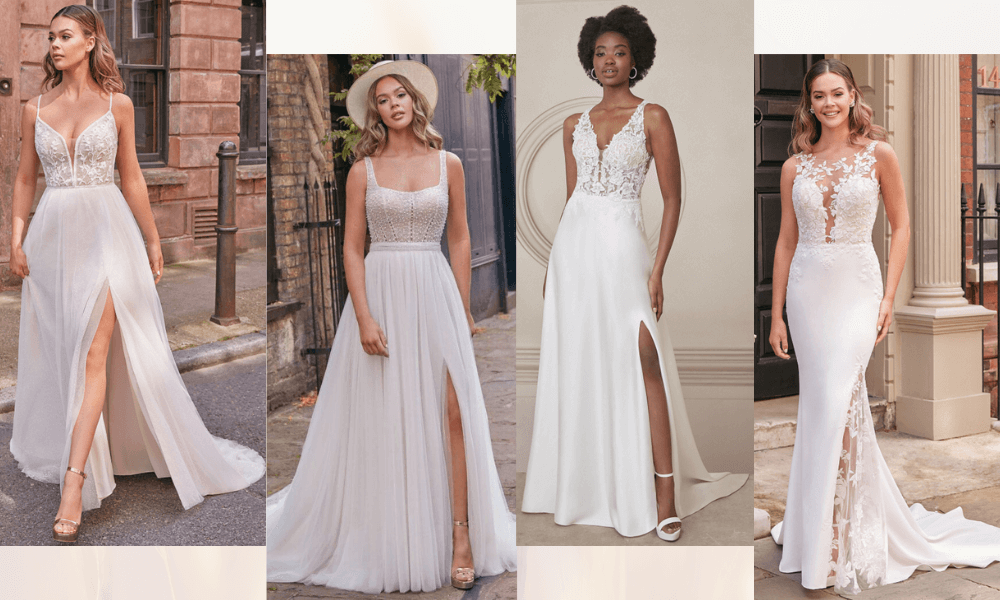 2. A daring trend: high slits in satin, tulle, and crepe.
While we loved the minimalism of Fynn, it certainly wasn't the only gown to feature a high slit in the skirt. In fact, this seems to be a popular design feature for Adore gowns, as Kelsey's first reception dress also featured a high slit. Needless to say, we're all for it.
To start, we'd like to introduce Andrea, which mirrors the slash in the skirt with a plunging illusion neckline in the bodice. Gabriela has a similar aura, as the skirts of both gowns are made of layers of tulle. While the material on Andrea is more shimmery, we adore the pearl beading on the bodice of Gabriela.
For a smoother gown, Burleigh combines satin and lace with a keyhole back that makes the gown a stunner from all angles. Finally, Leandra uses illusion lace on both the skirt and the bodice, adding a layer of interest to the skirt and a whole lot of daring to the top.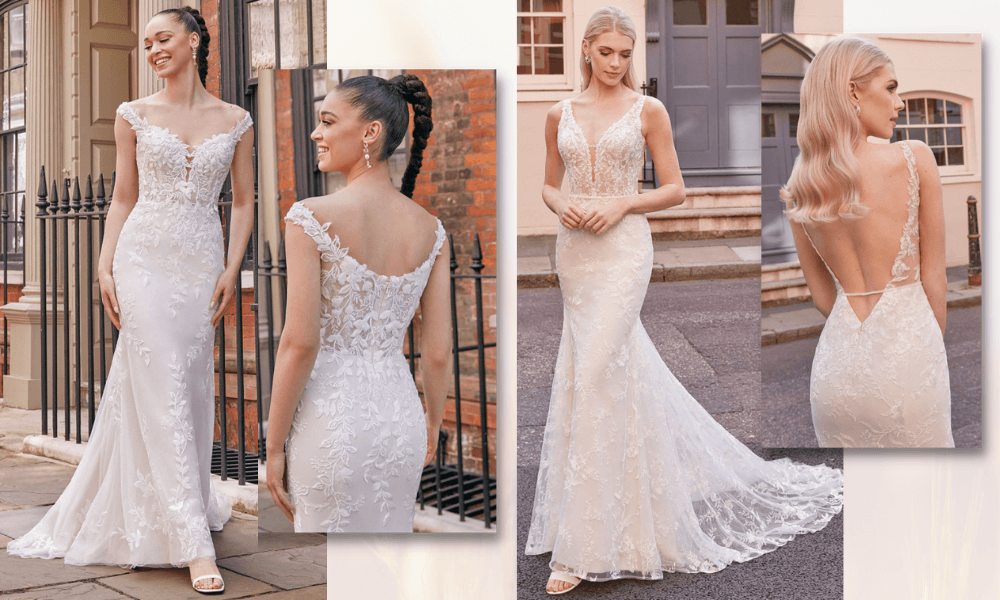 3: Karleen and Minka: sheaths in all-over lace.
The all-over lace look has been a favorite for several years now, and it remains popular in the latest collection. For brides who are planning a more traditional church wedding, Karleen offers a just off-the-shoulder lace strap along with a scooped backline and a plunging neckline that is subtly obscured by the leafy floral pattern of the lace.
Going in the opposite direction, the knockout feature on Minka is an open back with a narrow, beaded waistband. This is a great choice for brides who want to draw on old Hollywood glam for their look.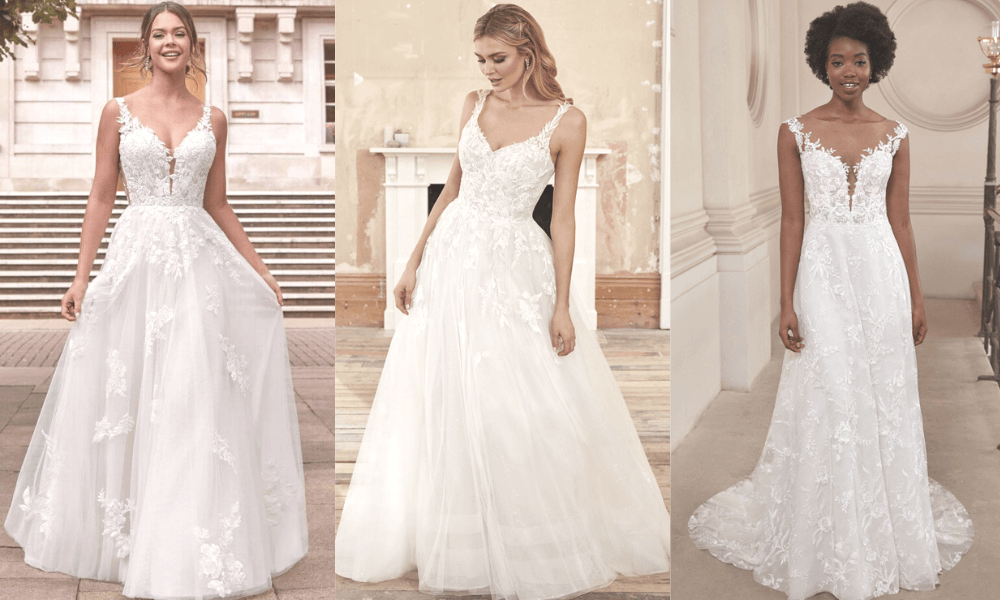 4. Flowing lace and fuller skirts.
Don't worry, we're not out of lace yet! In fact, we think the next set of gowns are the closest match to the one chosen by Kelsey for the ceremony. Marchella matches a low back with a plunge in the front, as well as lace cutouts on the sides, but we think it's the cloudy bow that brings it all together. Suyana is a wonderful choice for brides who want sparkle and lace, with sequins sewn directly into the tulle overskirt. Finally, Evangeline incorporates boning details in the bodice and illusion lace in the back for an overall look that is softly romantic.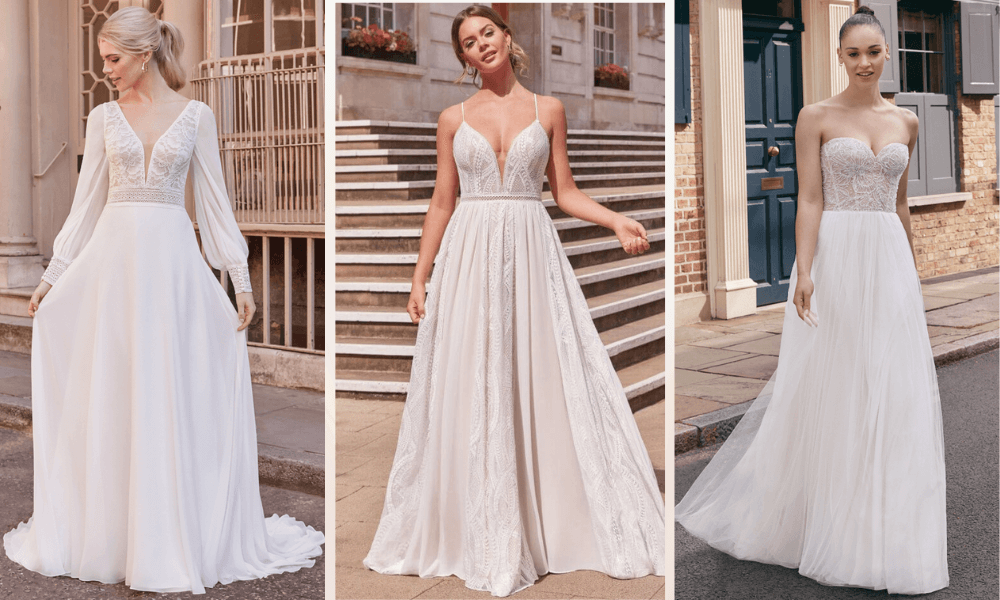 5. Breezy boho in chiffon and tulle.
Sometimes it's hard to pick why you think a set of gowns go together. Griffin, Callan, and Audrey Kay are all very different dresses—but maybe it's their subtle quirkiness that makes them stand out. For Griffin, we just adore the bishop sleeves with the buttons along the wrist, but we are also in love with the lace pattern used at the cuffs and waistband, which looks almost crocheted.
Callan incorporates the crochet lace more thoroughly into the pattern of the dress, but for a completely different look—almost beachy and a little more laid back than other gowns. Finally, Audrey Kay features a bustier top that we wish we could wear on its own. The intricate beading on the oversized lace combined with the ballet skirt are a power combination if ever we saw one.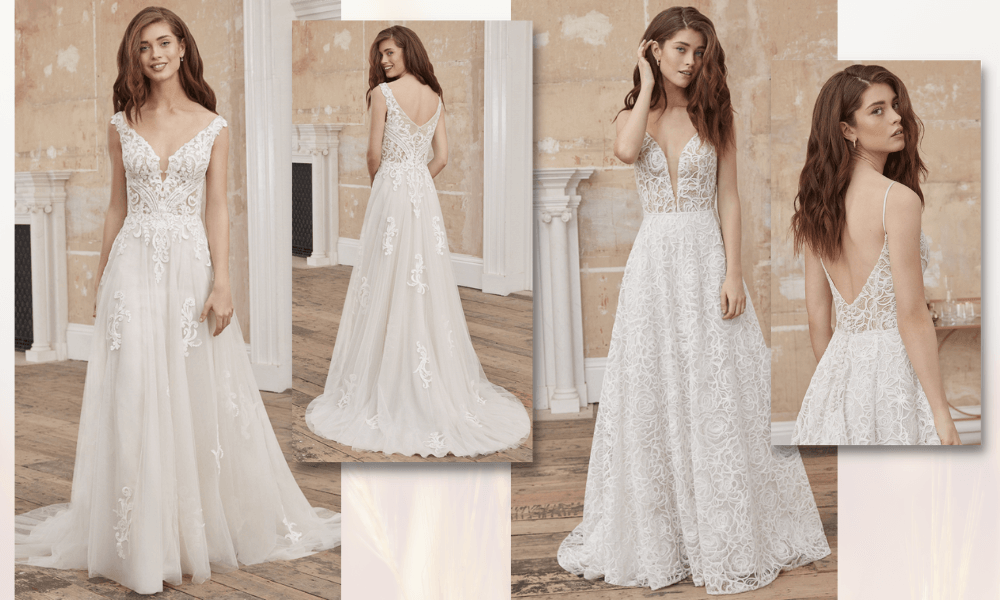 6. Zinedine and Violet: oversized unusual lace.
While both these gowns could have been included in either of the above two categories, we thought that the unusual patterning of the lace set them in a category of their own. The lace on Violet brings to mind a fleur-de-lis pattern that is carried in appliqués all the way to the hemline. Meanwhile, the solid statement lace on Zinedine makes the oversized roses look almost like a stained glass window pattern—perfect for a bride who has her heart set on a garden wedding.
Think one of these dresses may be the one? Come try them on for yourself!
All the dresses featured in this article are ones that we carry in our Brighton, MI store, so if you see one that catches your eye, book an appointment with us today! Throughout this month we'll be running special promotions for the holiday season, so it's the perfect time to get some shopping done and enjoy the festive atmosphere in our charming downtown. And if you aren't sure about what you're looking for, our TWD-ettes can guide you through—from choosing the perfect silhouette, to offering guidance on how to style your accessories. We can't wait to have you in our store!